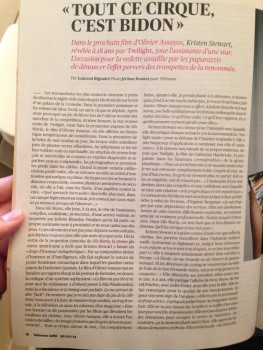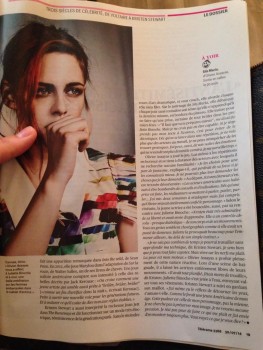 "All this circus is fake"

In the next Olivier Assayas movie, Kristen Stewart revealed at 18 with Twilight, plays the assistant of a star. The occasion for the star assaulted by the paps to report the perverse effect of that business.

The most hardened night hawks only just deserted Cannes' night club that was on the roof of palace on the Croisette. In the sticky dust and the lingering odour of cold tabacco another circus is rolling out. After causing a peak of fever during the ultimate red carpet of the competition, Kristen Stewart, the evanescent star of Twilight, comes to make the express promotion of Sils Maria, the movie by Olivier Assayas, where she assures a fantastic acting temperament. In the darkness of the night club returning to the light, the screens sparkle close to the collapsed green plants, the phones and walkie-talkies are overheating, the press agents briefly meet one other and talk without understanding one another, the photographers have they feet caught in the cables. When the young California star finally appears, she sees herself cornered by the sun, a window that underlines her pallor. Big circles are forming at respectable distance, like many security perimeters, where she looks, under the flashes, like a butterfly against the window. "What an unbelievable show! I know it by heart but here it's almost funny to observe it" she said later.