Swiss TV Spot



ON Set Interview
Kristen @4:22





NEW Cannes Interview with L'Express (+ Translation)
"Heroine of the Twilight saga, Kristen Stewart explodes in Sils Maria, by Olivier Assayas. A revelation that is well worth a (short) meeting.
Lets not waste time. The meeting with Kristen Stewart is timed. Take it or leave it. Because she is great in Sils Maria, by Olivier Assayas, we took it. In the movie, she plays the assistant-manager-coach-bodyguard of a star played by Juliette Binoche. In real life, she's one of the highest paid actresses in Hollywood and playing cat and mouse with the paparazzi who stick to her. The teenager in you, may know it: heroine of the Twilight saga, Kristen Stewart is a superstar whose "life, she said, blasé, has become a mini-show."
As proof, the effervescence on the rooftop of the hotel where, the morning after the presentation of Sils Maria at Cannes, the actress does interviews non-stop. Juliette Binoche and Olivier Assayas are also present, but all eyes are on this 24 year old American, actress since 10 and having always been on sets - her mother is a script supervisor, her father, a stage manager.
There is an irresistible urge to scratch beneath the surface of the actress, know to be crabby in interview, and sometimes rude to her fans seeking autographs. "This reputation is unfair, she defends. I was 17 when the first Twilight came out. I was caught in a media storm, where I only was gossip fodder. I became so nervous that people thought I was an unpleasant person."
Now, it's quite the opposite. She talks at full speed. And gets carried away when the term "against type" is mentioned about her roles as a rock star and muse of the Beat Generation in The Runaways and On the Road: "I don't give a fuck about what is good for my career or what people expect of me. What I want, is new experiences." Hence her desire to work with Juliette Binoche: "She turned out to be as I imagined: eccentric, weird, vivid, smart. And her laugh! My God, her laugh! It is most contagious I have ever heard in my life!"
At her side, like a mirror effect with Sils Maria, her publist times the interview. "She's with me since I was 13 years old. I evolve in a world where everything you say or do can be used against you. She helps me and protects me." She will be busy. Kristen Stewart is now no longer the teen idol. Thanks to her extraordinary performance in Sils Maria, she enters the major league like a tornado."
Olivier Assayas on Kristen & Juliette Binoche's relationship (+ Translation)
Q: When you have chosen Kristen Stewart, have you opted for the actress or the phenomenon she represented?
Olivier: Both! The specificity of this movie is that there's a fictional dimension and a dimension completely documentary in the sense that we never forget that Juliette Binoche is Juliette Binoche, Kristen Stewart, Kristen Stewart and Chloë Grace Moretz, Chloë Grace Moretz. What we know about them resonates within the movie, it becomes an additional dimension. The reason I chose Kristen originally is not that one, it's simply because she is the perfect incarnation of the character. But it's true that I needed Juliette to be face to face with a character who is her equal, not someone who is in blissful awe in front of her but someone representing a strength, also threatening, for the actress Juliette Binoche. Kristen is a young girl who is at the peak of her fame, she is intimidating and she also has a kind of hardness, severity. It happens that I've crossed paths with her several several times because Charles Gillibert, the producer of the movie, had also produced On the Road by Walter Salles (2012) and that my previous movie, After May, was traveling doing festivals over the same period. What I saw of her showed that she had a singularity, a force, something very different from actresses I had known. There was something about her that cinema had not yet grasped... What is courageous, is her act of coming to do this movie, at this stage of her career, in the depths of Switzerland and no possibility of return to Hollywood on the weekends, amid a team from European cinema that works very differently from what she knew before. And I also think she had the modesty to go to Juliette Binoche by pure desire to learn, because she felt that it could open her new space...
Q: On the contrary, is Juliette Binoche knew what Kristen Stewart represented?
Olivier: She knew pretty much. But is she expected to be in front of her someone so talented and intense? I do not believe... The scenario gravitates around this troubled character of Kristen and I think that has stimulated Juliette.
Q: Precisely, because of the relationship between these two characters, we feel that the movie could have taken a lot of different directions. How did you work to maintain a linear and quite simple balance?
Olivier: Lets say that the nuances between the two women belong to a relationship built on the set. I actually wrote a stripped scenario. I like to leave some space to my actors. We haven't exactly shot in chronological order, but still, we started with the train scene which helped to lay the characters, then we shot everything that did not take place in the mountains to finally finish in Sils Maria. Basically, to shoot without a break has made that the two actresses had become accustomed to each other, they were ready to embark on what was the main issue of the movie. Day after day, scene after scene, I could feel they took liberties, reinvented the scenes, twisted them in a way I had not necessarily anticipated. For example this moment where the two women talk about their meeting with Jo-Ann and laugh together at the hotel. This scene was not written as you saw it on the screen. It's just what happens after the last fight. What happens at that point, is in a way already the separation. But the actresses have decided to make of this moment, the moment of complicity the most intimate of the movie, and that brings a strange density at the scene. I hesitated because I felt they wanted that and at the same time that they were afraid of losing track. This relationship has really been established during the filming. A fantasy was being set up between them and we had to use it. So I had to constantly adjusted the dialogue, or even left them to do it themselves.
New 'Clouds of Sils Maria' behind the scenes picture + Old one now Uncropped & in Better Quality
Added the full translation of Kristen's Interview in Les Inrockuptibles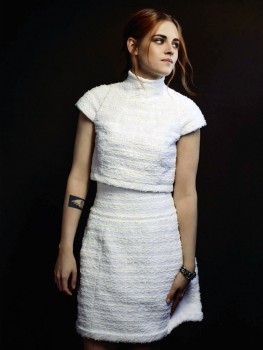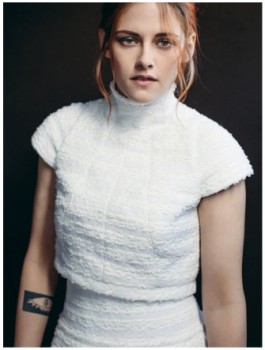 Scans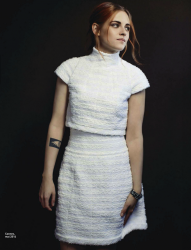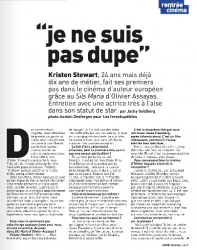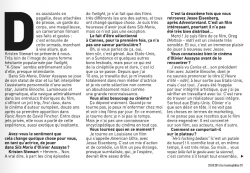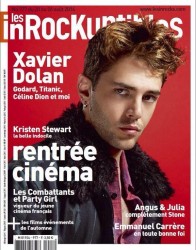 Digital scans -
Scans numériques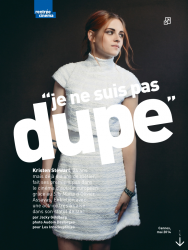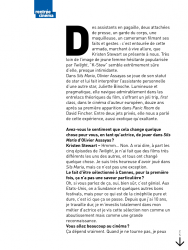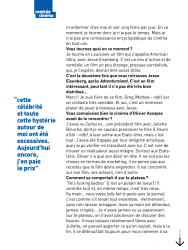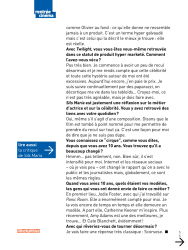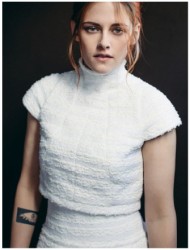 Interview
(On the cover) "Kristen Stewart, the indomitable beauty"
Kristen Stewart, just 24, but already ten years in the business, has made her first steps in the European auteur cinema through Olivier Assayas's Sils Maria. Interview with an actress very comfortable with her star status.
Many assistants, two publicists, a bodyguard, a makeup artist, a cameraman filming her every move: it's surrounded by this armada, walking briskly, that Kristen Stewart joins us. Very far from the image of a young, hesitant woman popularized by Twilight, "K-Stew" seems extremely confident, almost intimidating.
In Sils Maria, Olivier Assayas plays with her star status and gives her the role of personal assistant of another star, Juliette Binoche. Bright and pragmatic, she travels admirably between the theoretical interlacing of the movie, offering herself a nice trip, in first class, in European auteur cinema, twelve years after her first appearance in Panic Room by David Fincher. Between two private jets, she told us about that experience, just as exotic as exhilarating.
Q: Do you feel this changes anything for you, as an actress, to play in Olivier Assayas's Sils Maria?
Kristen: Hmmm... No. Actually, except the five Twilight film, I've only done very different movies from each other, and all of them have changed something. I'm very happy to have played in Sils Maria, but it is not an exception.
Q: Being selected at Cannes, for the first time [note: little mistake, it's the second], does it have a particular flavor?
Kristen: Oh, if you talk about that, yes, of course it's great. In the United States, we have Sundance and some other good festivals, but in terms of pure and hard love of movies, [Cannes] is the place to be. Since I was 10, I work hard, I'm totally invested in my job as an actress and I saw this selection not as an outcome but as a big recognition.
Q: You go to the movies a lot?
Kristen: It really depends. When I'm not filming, I can lock myself in my house and see five movies a day. Right now, I'm filming so I don't have time. But I don't have an encyclopedic knowledge of movies anyway.
Q: What are you filming right now?
Kristen: I'm filming a movie in Louisiana called American Ultra, with Jesse Eisenberg. It is a mix of action and comedy, a somewhat strange movie, almost surreal, which, I hope, should be quite funny.
Q: It's the second time you work with Jesse Eisenberg, after Adventureland. It's an interesting movie, even if it had not been very well distributed...
Kristen: Thank you! I'm proud of this movie, Greg [Mottola] is a very sensitive director. And yes, it's an immense pleasure to work again with Jesse.
Q: Did you know well the movies of Olivier Assayas before meeting him?
Kristen: I saw Carlos and... his previous movie with Juliette Binoche, which I can not pronounce the title [L'Heure d'été], when they were released in the United States, but that's all. I had been struck by their artistic integrity, which I got to see by working with him. It's rare to find an honorable director. Especially in the United States. Olivier has just his desire in mind. He does not see things in terms of marketing, he does not think at how much revenue the movie will generate. He is focused on his film, its actors, nothing else.
Q: How was he [Olivier] on the set?
Kristen: He's a fucking badass! He controls everything and, at the same time, he's very cool. His hand.. you see (she makes the gesture with her own), it's as if he was holding everything together tightly, leaving nothing slip through his fingers, but his hand is relaxed, never tensed... I've never seen that before. On the set, we did not have to talk for hours. He let us relatively 'free' with Juliette, we were able to bring what we wanted, but at the end, he always managed to take us to his own vision of things. Here's how I would characterize his method: he puts everything methodically and then he let it go. It's almost like theater: very long takes that never seem to end. This is rare, and very cool.
Q: You are known to love improvisation, Assayas encouraged you to go in that direction?
Kristen: Yes, completely. I learn my lines but I'm not the kind of person sticking to it word for word, or rehearsing the scene a hundred times before playing it. It was totally ok for Olivier and Juliette, who have encouraged me in this way (she pauses). To be honest, I think they were a little destabilized at first, and me as well. It took me a good week to get used to the style of Olivier, who gives just a very few guidances. In Hollywood, we are sometimes directed to the millimeter: "Say this line, go there, mark this pause, turn around 12 degrees," But I think it kills spontaneity. I love when emotion gushed at the time.
Q: And Juliette Binoche, how was she with you?
Kristen: With me? Lovely. She has a crazy energy. She is a powerhouse. She is very eccentric and at the same time, she's not the type of person to get into a tizzy over nothing, you know what I mean. She does not just pontificate, as many actors do.. talking for hours about their craft, their careers, their technique and, once the director said "action" give you the most banal performance you've ever seen... No, Juliette, she, applies her philosophy. She's like Olivier deep down: what she gives never looks like a product. It is such a cliché term but I think it's the one that best describes her: she is real.
Q: With Twilight, you've found yourself in this position of big product marketing. How did you feel?
Kristen: Not very well. Now I begin to take a step back and I realize that this fame and all this hysteria around me were excessive. Even now, I pay the price. I am constantly followed by paparazzi, my life is dissected in the tabloids... Believe me, it's not very pleasant, but I have to do with.
Q: Sils Maria is precisely a reflection on the acting profession and the celebrity. Have you find things in it that reminded you daily life?
Kristen: Yes, even if it is a composition. Let's say that the movie was well-timed, to allow me to take a step back from all that. It's a way for me to say that I'm not fooled.
Q: You knew this "circus", as you say, since you're 10 years old. Do you think it has changed a lot?
Hmmm... not really, no. Of course, it has been intensified in my case. Internet and social networks - on which I'm not much - has changed the relationship we have with the public and media but, globally, these are the same rules.
Q: When you were 10 years old, who were your role models, people who inspired you to do this job?
Kristen: Firstly, Jodie Foster, with whom I worked on Panic Room. She was really really important to me. I still see her from time to time and she remains a model. Besides her, Catherine Keener inspires me. Most recently, Amy Adams is one of the best, I think.. And Cate Blanchette, of course!
Q: Who would you dream to work with now?
Kristen: I'll give a very typical answer: Scorsese.
Kristen's Cannes Portrait for Les Inrockuptibles May 2014 issue now non-scan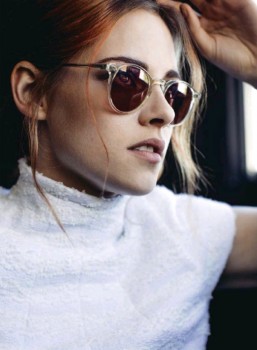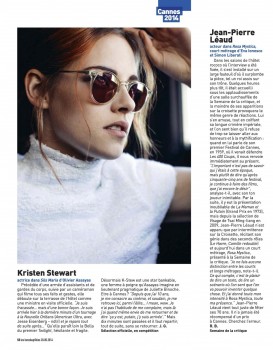 Preceded by an army of assistants and bodyguards, followed by a cameraman filming everything she does, she arrives on the rooftop of the hotel like a Minister on an official visit. "I'm shattered... but in a good way. I've arrived yesterday at the last minute from a shooting in New Orleans [American Ultra, with Jesse Eisenberg], and I'm leaving right after..." Bella from the first Twilight seems so far away, hesitant and fragile.
Now K-Stew is a bankable star, a woman with a firm hand that Assayas imagines as a pragmatic Lieutenant of Juliette Binoche. To be in Cannes? "Since I was 10, I consecrate myself to cinema and suddenly I find myself here among the elite.. I mean, wow. I am not used to revel, but here I want to turn around and say 'that's it, fuck, I did it'." But ten minutes passed and it's time to leave, immediately, without looking back.
Chloë Grace Moretz talks about Cannes & mentions Kristen
Q: How was the experience at the Cannes Film Festival?
MORETZ: Cannes was like, 'Whoa!' I had never experienced anything like that before and that red carpet was the most terrifying experience of my life. Alone, I was like, this is terrifying and I look to my right and 'Oh, hey Juliette Binoche,' and they are like, 'Oh hey Kristen Stewart; oh, hey Olivier Assayas,' and I was like, oh okay, right, whatever. And I was so jet lagged and there were all these cameras and the movie was happening and I was so confused, I didn't know what was going on and it was an amazing experience. It was like a whirlwind but I will honestly never forget that moment, like walking the carpet up the steps, having the eight minute standing ovation we had. God it was crazy. And it was my first Cannes ever.
Q: It's always important, the first Cannes. (laughter)
MORETZ: Yeah, it's a big milestone. It's a really big milestone for an actor's career. I am very, very proud of the movie.
Q: Do you know people like Elle or Dakota Fanning, because you are joining their club now.
MORETZ: [..] Dakota is a good friend of Kristen's (Stewart). I love Kristen. (laughter)
Old 'Clouds of Sils Maria' still now in LQ & Uncropped
The second 'Clouds of Sils Maria' poster now in UHQ & Untagged