Stewart spoke with ML during the Toronto International Film Festival where the film had its North American premiere. She shared thoughts on her character's "hard love," how she grew herself being a part of the film and how this was the "biggest experience" she's felt on a set.
So what was your road to On the Road? 
I was 14 or 15 when I first met Walter Salles. I spoke to him when I was 17, I think I may have shot the first Twilight, I'm not sure - possibly I was about to go do it. At first I was talking about playing another part, so it's been a long time coming. I don't know how I was able to get around that kind of energy, but to convey that I loved this thing in the way [Walter Salles] does and as soon as you get around that energy it passes between you, nothing really needs to be said. I got the job on the spot, and I drove away just vibrating. I was like, 'Are you kidding me?' Plus I was very young, I wasn't quite old enough for the part yet.
When I read the book many years ago, I found it sprawling and didn't seem to have elements that would make it translatable to the screen - at least I remember thinking that at the time. What did you think of the book when you first read it? 
I was reading it for school, so I had to read it. I did independent study when I was in high school. I remember, I took so long to read the book. All I had to do was read it and write a report, it wasn't like I had to do an intensive study of the book, and it took me months and months - I was late. But, I think my teacher was OK with it because I think ultimately the paper was good.
But, people say it's different when you read it at different ages - but for me at the time, it was fun! At that age you start realizing you have a choice in who you surround yourself with. Up until that point, you're just around circumstantially who you're with - your family or whatever - but at that point you can start choose your family - and I've got a great family by the way - but I mean just the people you decide to surround yourself with. I don't want to sound cliché, but people should pull something out of you that would otherwise remain unseen.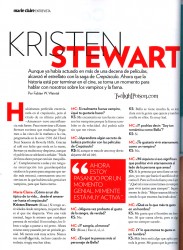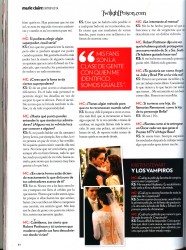 Great interview - thanks
Twilight Poison
for the scans and translation
We would've rather interview Kristen at twilight, but it was dawn, like the movie title, which I guess had a stronger influence on the time set for us. Our date was at 5:00 AM, suite 1501 at the Four Season Hotel in Beverly Hills. Thanks to the latte on her hand, Kristen was already up and ready, but her publicist point out, "No pictures; her make up is not done." Completely by ourselves, and with no interruptions at all (just a bodyguard on the door to prevent people from walking in), we started an interview that would've been great if we were vampires, so it'd last for ever.
How's a typical day for you? From dawn to twilight?
I have a very early start everyday. My dog Bear usually wakes me up. I live a normal life, pretty much everything that a 22 year old does. If I'm not working, I read, I walk my dog. I'm going through an amazing time in my life right now. My mind is very active. I'm never bored. Even when I'm not working, my mind is full of ideas.
If you were a vampire what would you like to do with your time?
From
Variety
:
After closing in on Ben Affleck, Warner Bros. now looks to have its female lead for the drama "Focus," as Kristen Stewart is in talks to co-star with Affleck in the con artist movie.
"Crazy Stupid Love" helmers Glenn Ficarra and John Requa will direct from a script they wrote. Denise DiNovi will produce the story of a veteran con man who partners with a girl who's new to the grifter life.
Movie Plot:
A veteran grifter takes a young, attractive woman under his wing, but things get complicated when they become romantically involved.
Warners has been aiming to get this off the ground for a while with the studio eyeballing Ryan Gosling and Emma Stone to reteam with their "Crazy Stupid Love" helmers. When those plans fell through the studio moved quickly grabbing Affleck as he was deciding his next project following "Argo" and now look to have Stewart in their sights.
With "Snow White and the Huntsman" hitting big at the global box office and "The Twilight Saga" franchise coming to an end this month, Stewart had been taking her time before deciding what she would decide to do next.
UPDATE:
THR
confirms Kristen will star in the film-
The "Breaking Dawn" star will play a grifter in the Warner Bros. film.
Kristen Stewart is getting into Focus.
The actress is in talks to star opposite Ben Affleck in the Warner Bros. con artist film, T
he Hollywood Reporter confirms.
Stewart will play a young grifter who teams up with Affleck, an experienced vet.
Focus will be directed by Crazy, Stupid, Love helmers Glenn Ficarra and John Requa from a script that they penned. Denise DiNovi will produce.
Stewart is repped by Gersh.
He'll star opposite Naomi Watts and Robert Pattinson in the biopic of Gertrude Bell, described as the female Lawrence of Arabia.
Adding another title to its arsenal, Sierra/Affinity will represent foreign rights to Werner Herzog's historical Gertrude Bell biopic Queen of the Desert.
Judd Law is joining the cast of the film, which headlines Naomi Watts as Bell and Robert Pattinson as T.E. Lawrence, otherwise known as Lawrence of Arabia.
Bell -- like Lawrence -- was an explorer, writer, archeologist and attaché for the British Empire, who is credited with helping to catalyze the formation of the Middle East at the dawn of the 20th century. She's often been referred to as the "female" Lawrence of Arabia.
Nick Raslan is producing via his Palmyra Films banner along with Cassian Elwes and Michael Benaroya. Benaroya's Benaroya Pictures banner will finance the film.
Sierra/Affinity will handle international sales and will make it available to buyers during this year's American Film Market.
"It is a great opportunity to be working with such acclaimed talent on such an important project. We look forward to seeing Werner Herzog make this exciting piece of history come alive for a global audience,"
Sierra/Affinity CEO Nick Meyer said.
Principal photography is scheduled to begin in Morocco in March 2013.
Source
|
Via

Watch in HD at the source

More from interview - watch in HD at the source



Full Rob Interview



Full Kristen Interview