Josh was on a train today and bored so he asked people to send in random questions to kill time. Well people just started sending in questions and we got some good stuff out of it!


LOVE all the outfits they share together, these are great!!
And seriously the infamous flannel is too sweet!
Gif from
giveittomekristen.tumblr
Flannel Edit from @rk810 Check out her amazing
collage site!
Love when someone suggests a theme...today 'Sharing is Caring', because we know our fave couple love to share clothes. Or more like Kristen likes to borrow out of Rob's wardrobe. Here's a video to prove they love to share :D
Video from
lllKristenlll
By
Indiwire
(Via:
Larry411
) :
It makes perfect sense that Rob Pattinson would continue his attempts to broaden his fan base as the "Twilight" franchise nears its end. Starring in a new film adaptation of Guy de Maupassant's 1885 novel "Bel Ami" certainly advances that project: Playing Georges Duroy, an unscrupulous ex-soldier who makes his way up the ladder of Parisian high society by seducing the wives of powerful men, adds a few strings to his bow.
via
dashuli4tumblr
We know that our hobos share a lot, from clothes to sunglasses to luggage and even to food :)). But it 's always nice to see it again and again in pictures. I'm sure sometimes they don't even remember what belongs to whom cuz it doesn't matter in the end <33. Keep sharing hobos cuz after all sharing IS caring
The quotes, love. The song, love. The video clips, love. The couple, love...A LOT!!
Video from
jositub
We love, love, love how supportive Rob's family is of him and his career. Kuddos to them for always making his movie premieres.
Pics of them at RM premiere after party (which Kstew attended) and at Eclipse premiere
via
Drowninit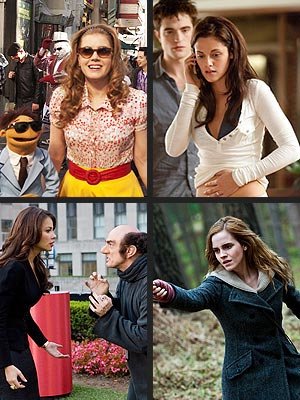 Who are kids' favorite folks in Hollywood?
That's to be determined on March 31 at 8 p.m. during the 25th Annual Kids Choice Awards on Nickelodeon – but in the meantime, several of the big screen's leading ladies are up for the title of favorite movie actress.
Amy Adams
is nominated for
The Muppets
, while
Kristen Stewart gets a nod for The Twilight Saga: Breaking Dawn, Part 1.
Sofia Vergara
is in the running for her role in
The Smurfs
, while
Emma Watson
is up for
Harry Potter and the Deathly Hallows, Part 2
.
So, which of these Hollywood heavyweights should walk away with a blimp award at the show, which is to be hosted by
Will Smith
?
Click
here
to vote for Kristen
Its time to announce the winner of this baby!!! Thank you for all of you who entered. It was fun reading through all of your comments. Most of them hilarious and some very sweet. It was a very hard decision.... So thank you for humoring us with this :) You guys are great.
The object was to caption this gif as best you could. And the winner is......
Evelyn_Word congratulations. Here is her caption. We thought it was hilarious and something that may have happened? LOL
man: Yes! Now's my chance ( reaches down to touch kristen's legs)

K: OMG!! I just felt something crawl under me!

R: Hehe.. Wow there kristen, getting a little handsy...

K: wait what?

man: woops!!! wrong one!!!
Please check you email.:) And congrats again!!
Adorable sharing and caring Robsten. Either they wear same shirts, or they like copying each others styles. I think it's adorable :") Thanks Anita for the cute edit <3 Check out even more edits at
Robsten Collages
!
Grazia Daily: You're working on Cosmopolis with Robert Pattinson now, what's that been like?
Denise Cronenberg: Oh, he's lovely! He's such a nice, sweet kid. He's intelligent and smart; he was very brave to take on something like this because I think he was quite hesitant at first. But David is wonderful with actors and he's a father of three, so he uses that. He and Robert had a wonderful relationship. It was an unusual film to do, very unusual. We had to do a rave, street fires and have cars exploding for this film! David and I decided what we thought we'd put Robert in. I then talked to Gucci who were incredible and gave us all his clothes. He's dressed from head to toe in Gucci from the tie to his socks! And we had no money, like really, no money so we could never have done it without them.
Thanks @
KristensLegs
|
via
Christina Ricci talks about Rob to BBC Radio 1 You listen to the entire interview online at 1:16:00.





"He's a lovely, lovely human being"


Thanks
RPLife