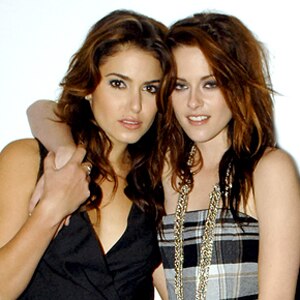 E! Online
: Nikki Reed isn't the least bit surprised that her Twilight costar Kristen Stewart went topless in On the Road.
It's not because she thinks her fellow Twilight starlet is some sort of closet exhibitionist, but...
"She's such a great actress and knows what she's doing,"
Reed, 24, told me at the MTV Movie Awards.
"She's really excited about it. So if she's excited about it, I'm excited about it. I think it's awesome."
And Ms. Reed has similar high praise for K.Stew's latest box-office hit, Snow White and the Huntsman. She remembers Stewart, 22, talking about snagging the coveted role while they were filming the second Breaking Dawn movie.
Reed took her mom to see the film on opening day. "
It's great,
" she gushed.
"It was awesome. All the performances were super. It's really fun."
via
Vonch