Kristen taped Jimmy Kimmel for the SWATH promo today! Here are the Pictures, fan pics, videos and tweets of her outside, being nice to fans as always :)


Arriving
MQ
Leaving
HQ
Fan Pics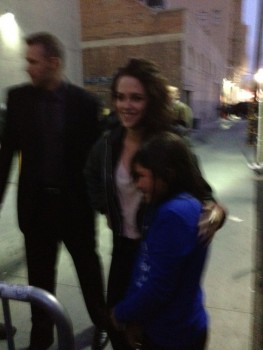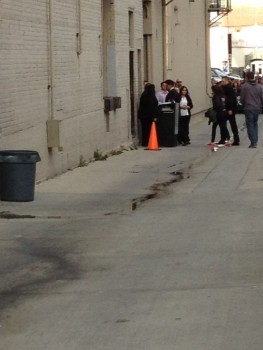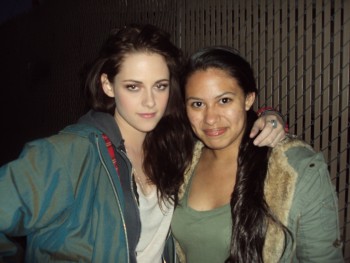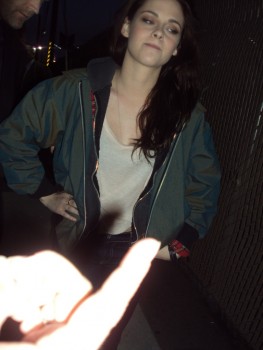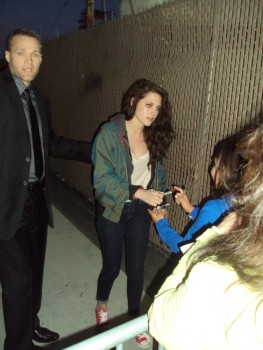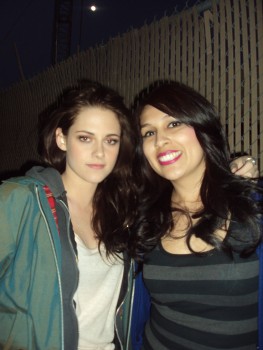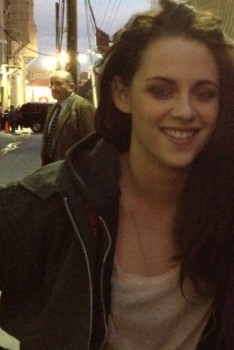 Video
Tweets:
From
dazedbyrob
:
Just met kristen fucking stewart!! my dream came true! :')
She was wearing her green jacket!!! She looked flawless <3 I got a pic with her!
@VanessaInPinks gets mahor props!
She ditched the papz for us. There were only 7 of us! She came over and she was like yeah its too crazy over there :')
Shaking this is my first time meeting her! I love her!
The look on kristens face with the little girl is priceless. Pure kindness. <3
Thevlittle girl was cute she was like is she really coming and we were like yeah but it takes a lot of waiting. And after she got her pic..
...she started crying an my mom told her you'll meet her many more times sweetie. Kisten made many dreams come true!!! <3
Legit almost hugged her I was having a hard time containing myself!!!
@adawnn1 she was moving our heats melted!
All of us saw kindness in her! I told k "ive tried so many times meeting you and finally I do" and she just smiled!!
KRISTEN STEWART TOUCHED MEH AND SIDE HUGGED MEH!!! Life is complete.
@nguyensylvia great person shes not fake at all. My mom told me you can see how great she is just through her eyes :')
Momma is a little fan girl she got a pic of k on her phone. Not great quality but i'll post in 5 mins just got home! :)
Made eye contact with her. It was magical I didnt want to look away. Sh really takes the time to look at you! :)
I love how kristen takes pics with fans like if shes your bestie!! <3
Didnt realize she touched my hair! :
So what i liked about Kristen and HBG they let us go around the barricade so we had nothing in between us at ALL!! Just her and her fans!
@lovelyLadyss dont know if its true. but from what i saw there was no limping!!!!!! and i saw her walk a far distance to us.
We saw her go to the other side she was there for bit. We were scared she wasnt coming to us!
Then we heard all the papz and stuff go bboooo. and we thought she wasnt coming but she did.
The car was covering her from us but then i saw her cute little feet walking towards us and the she appeared! :")
WE were all saying thank you so much for coming. Thats when she said yeah too crazy over there!
Baby girl did look tired thats why im so happy she came to us!
The other girls asked if we could take pics & she said yah sure! :) This is probably one of the best moments for fans it was very personal!
From
VanessaInPinks
:
I JUST MEt FICKEN Kristen STEEART
I got a pic will post when I can omg she's beautiful
We were waiting not with paparazzi she went to their side first but realized it was paps so she came to ours!!!!
So fteaken beautiful and sweet
Creying shaking how am I supposed to drive home
Jk but omg she's so gorgeous in person. We thanked her and she only took pics with like 5 of us!
And she was still rocking her red chucks.
SHE FUCKEN TOUCHED MY HAIR AND OUR HIAR IS LIKE THE SAME LENGTH ALK;FDSLFKJ
thank you everyone for your sweet comments im so happy right now, floating on a cloud.
@iiloveteenwolf lol idk i was too stunned by her beauty to breathe tbh
Thanks to
kstewartfans
Fan pics Via:
VanessaInPinks
|
_namelessfool
|
KstewAngel
|
500DaysofRK
|
Alice_InTwiLand