For HQ Pictures, articles, tweets and fashion details check after the cut...
HQ
'On Stage'
'Backstage'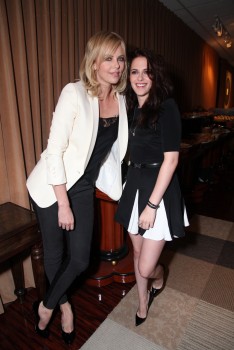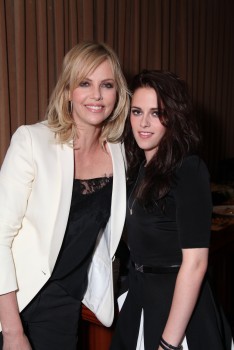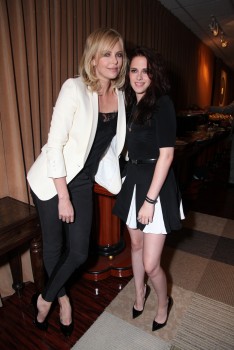 From Deadline
:
Next up was extended footage from U's June 1 release Snow White And The Huntsman and the exhibs seemed to like it, especially when stars Charlize Theron, Kristen Stewart, producer Joe Roth and first time feature director Rupert Sanders came out. Fogelson explained they and Roth were willing to take the huge risk on Sanders based of the pitch reel he created to get the job. Roth noted he just saw the finished film last Saturday. "I can't imagine anyone over the age of ten who won't love it," he said. Spoken like a true producer. Rocco told Deadline last night she's especially high on this one – and that's despite the fact of that "other" Snow White film in the market as Roth said. Theron said she went into the project telling the studio and Roth, "if you want me to do it we have to make it balls-to-the-wall", to which Sanders cracked "I didn't realize they would be my balls!"
From LA Times: 24 Frames:
"Snow White & The Huntsman" received one of the more enthusiastic responses from the audience, who were visibly excited to see Stewart, Theron, director Rupert Sanders and producer Joe Roth emerge from backstage. Kristen called the film the
"perfect choice for me. It was something to prove myself in,"
the "Twilight" veteran said.
Tweets
Variety_JLD
Universal ends CinemaCon with the most polished & entertaining slate presentation of all six studios, by far. Adam Fogelson is a natural.
Stars onstage: K-Stew, Charlize, Travolta, Mila Kunis, Taylor Kitsch, Jeremy Renner, and hysterical Seth McFarlane. Slate looks winning.
We saw some pretty wicked shit in the dark forest of SNOW WHITE AND THE HUNTSMAN. And saw way more of the dwarves than ever before.
The SWATH forest looked almost like Japanese horror-scary. This will not be a Snow White for little kids.
AmyKinLA
Uni has most stars yet: T. Kitsch, B. Decker, K. Stewart, C. Theron, J. Travolta, S. Hayek, O. Stone, S. McFarlane, M. Kunis, J. Renner.
"Snow White & the Huntsman" director says the fairytale is the "least princessy, least pink one." #CinemaCon
colliderfrosty
Universal presentation was the best yet. They world premiered footage from every movie they have through summer 2013!
they also showed new footage from SNOW WHITE AND THE HUNTSMAN. Looks like it could be a really great fantasy film. K. Stewart was on stage.
joshuahorowitz
Gargantuan Cinemacon presentation from Universal just wrapped in Vegas. Lotsa stars showed including Kristen Stewart!
LynneMcQ
Snow White & The Huntsman, Bourne Legacy and Savages look amazing for Universal 2012 #CinemaCon
EriktheMovieman
For instance I am now very much looking forward to SNOW WHITE AND THE HUNTSMAN and THE BOURNE LEGACY. #cinemacon
SvenRump
Kristin Stewart. Jeremy Renner. Taylor Kitsch. John Travolta. Mila Kunis. Seth MacFarlane. Oliver Stone. Charlize Theron. #CinemaCon
---
Kristen Stewart at #CinemaCon 2012 wearing @CUSHNIEETOCHS Pre-Fall 2012! #FirstLook twitpic.com/9e6h3u
— Courtney Justice (@courtjustice) April 27, 2012
FYI - This is the first time Kristen has worn @CUSHNIEETOCHS (one of my favorite labels). Her shoes are Christian Louboutin "Pigalle" pumps.
— Courtney Justice (@courtjustice) April 27, 2012
The belt and dress are both Cushnie et Ochs. RT @JessieDior: Do you know where kristen's belt is from? @courtjustice
— Courtney Justice (@courtjustice) April 27, 2012
HQ Pictures:
kstewartfans
Tweets:
1
|
2
|
3
|
4
|
5
|
6
|
7
Deatils via:
kstewartnews