Rob and Kristen at Louis Vuitton/Marc Jacobs exhibition today. Yay!! This is actually considered the very first time they attend a "public" event together. Granted they didn't walk the red carpet together, but what more could we ask for right? We're updating this post as soon as things come in. Keep refreshing the page!
HQ Untagged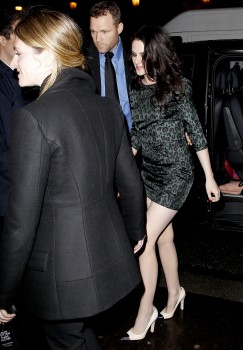 Rob
another MQ pic of Rob inside
MQ Tagged
Tagged
Screencaps | Tweepics
Video
(You can see them at 0:04) walking up the stairs.
Coverage from TV shows/gossip sites
Gifs
Tweets/Info
PopSugar
Kristen Stewart got sexy in a short leopard prints dress in Paris today. She stepped out for the Louis Vuitton exhibit at the Musee des Arts Decoratifs, which showcases Marc Jacob

s's fifteen years of work at the fashion house. Kristen stopped by the designer's showroom on Monday after also popping up at Balenciaga's show last week. She wasn't the only famous face to show their support for Marc ahead of the exhibit's public opening on Friday, since Robert Pattinson adn Gwyneth Paltrow also came out for the event. Gwyneth arrived in France from London this morning, when she was spotted hopping on the Eurostar.
From
GlamourParis
:
Spotted au vernissage de l'expo #Vuitton : gwyneth palthrow, kristen Stewart et son mec Robert pattinson. Kristen Stewart and her boyfriend Robert Pattinson
From
jamesmyerstvc
:
standing in a room with Gwyneth, SJP,R-Pats and Kristen Stewart, Diana Aggron, Marc Jacobs, @leonschlesinger and @adamclyne.
From
merhebmandy
Spotted Robert Pattinson and Kristen Stewart walking hand in hand to the Marc Jacobs Louis Vuittion exhibition
From
jimshi809
:
#RPatz and #KStew have arrived at the @LouisVuitton exhibition party. Nice coup, Marc Jacobs. #KristenStewart #RobertPattinson
Confirmed. #KStew #KristenStewart's divine outfit at the @LouisVuitton exhibit opening bash is indeed Vuitton. #chic #PFW
From
LoveTheStew
:
So the details : my friend and i saw a van from the distance so we started walking toward the van. But kinda slowly
Then my friend said " omg it's them !!" And i said " no it's not. Wait shiiiit HBG !!! Omg Kristen !!! " And then we saw Rob sat in
The van and we started waving at them, then Kristen spotted me and pointed at me with a big smile and she waved back, so i waved again
She looked so happy :,)) !!! And Rob was kinda "hidding" under his baseball cap. Bc of the papz i guess. And then Kristen told
His something and she laughed. I didn't see Rob's face though. I was only starring at Kristen at this moment lol.
And then they closed the door of thje van and i died.
---
Kristen in all Louis Vuitton. Shoes are SS12 "Merry Go Round" pumps
(via
courtjustice
)
HQ Untagged pics
kstewartfans
|
KstewartBR
|
RPLife
|
shegotthemoves
|
Kstewangel