It seems like ages ago since Twilight…
Yes, it does! It feels like it was decades ago.
Do you think the social impact of the saga will be seen again in the next 10 years?
I'm not sure. I know people who always loved it will stay loyal, and I can imagine all the fans that have been at Comic-Con and things like that always caring for the saga and will remember it with love. But I don't think it changed society, or left a deep impact. I did help develope more projects for the female audience.
Is it sad that it's over?
We still have things to look forward to, so it's weird. There's still part 2, nuew images, new clips, so it's not over yet. The weird thing is knowing I won't be back on a Twilight set anymore. The last day of shooting happened so quickly, it wasn't climatic enough. Everybody was tired and wanted to go home. It only hit me the following morning that it was over for good.
Interviewer: So tell us something cool about Kristen Stewart that most people wouldn't know about her.
BB:
Um, I'm not sure that there are things that people know about her. There's a lot of conjecture and things people would love to believe because that's what people do. That's the weird, strange thing about this business. People look at people on a movie screen or in an interview and they develop ideas and opinions that probably most of the time are not anywhere near true. So I guess the first thing that comes to mind is that she's probably way more misunderstood then people would imagine. And she's such a genuine human being, and seems to be very true to herself. I really admire that about her.
Source
|
Via
The new chapter of the multibillion-dollar Twilight film franchise has its beautiful scenes, most notably the wedding of Bella Swan to her vampire love Edward Cullen.
The movie also has its gore.
Blood should be expected in a movie involving werewolves and vampires, but in a particular scene involving the birth of a child, some audience members may feel as faint as a victim of a werewolf or vampire bite.
At the centre of the beauty and gore in The Twilight Saga: Breaking Dawn – Part 1, the fourth film of the series based on author Stephenie Meyer's bestselling book series, is Kristen Stewart, the actress who plays Bella Swan, the central female character and the object of affection for Cullen the vampire and Jacob Black the werewolf.
Really good interview read the rest at
Twilight Poison
It's his last interview of the day, and Pattinson looks exhausted "I'm about to pass out," he says as he crashes on a couch. His exhorbitant fame would exhaust anyone. We still have to ait 1 year for the final movie, and that's why Rob is now facing an emptiness that is waiting for him when the saga is over. He has two movies waiting for a release date, but as of now, the actor has no new projects lined up. He laughs, "I didn't mean to take a break but…" aware that is strange how a star of his calibre has no work waiting fo him. There's rumors that Hollywood doesn't know what to do with him once Twilight is over. Pattinson doesn't seem worried, and talks wisely about the whirlwind that is his life.
Because of possible

spoilers

, the review is under the cut.
Remember this is an individual opinion.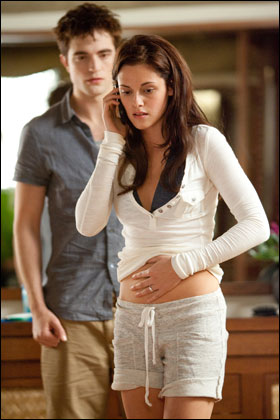 Check out tons of Gifs + Screen caps of the trailer
here
!! Can June 1, 2012 get here fast enough??
Make sure to go subscribe to the
SnowWhiteAndTheHuntsman
YouTube channel!! Exciting!! Now we get to see all their amazing trailers in high definition :)
Thanks
KstewartNews
for the tip :)
So, the trailer debuted online today, and—from what I've seen—the response seems to be pretty positive…

EVAN DAUGHERTY: Yes!
And so, the first question I want to ask you is, why another Snow White movie? We've seen a whole bunch of variations on the Snow White story. To me, it's the same thing as another Robin Hood. So, what's different about this version?
DAUGHERTY: Well, I wrote this script in 2003, when I was a humble college student, sitting in my boxers and writing in my dorm room. And I came up with the idea of writing an action-based Snow White, with this kind of Huntsman character as kind of a way in. So, that's something I'm sort of proud of. Some people think that this is the era of revisionist fairy tales, and was this sort of a cynical grab? Well, the fact of the matter is, this is something that came from a very organic place. I think there's something to be said for the fact that people in Hollywood didn't want to make it back then, y'know, and that fairy tales somehow became a trend…but, for me, when you're looking back at those old fairy tales, those stories are sort of about men saving women and the heroic prince saving the damsel in distress. And that didn't seem like a particularly modern way of talking about things. So, my guiding principle became, "What if, instead of saving Snow White, the Huntsman teaches Snow White to save herself?"
Click on MU to download the trailer in HD from itunes!!! Thanks
Kstewartfans
1280x544 | 720p | .MOV | MU
1920x816 | 1080p | .MOV | MU
Speaking of
Robert Pattinson
, she says: "I don't have any scenes with Robert, but I did get to meet him in the make-up process. The first time that I saw him was in the make-up trailer. He's very, very nice.

"I get to spend more time with Taylor and Kristen. She's very nice and very reserved from my interaction. She's playing a role where people have read the books and they imagine the character, so there's a lot of pressure, but she's just very focused."

"The shyness just comes from the fact that she's really dedicated to bringing this character to life. That's probably more what people are seeing than anything else."
Will post youtube when avaiable!
You can download it from
here
|
Via
Source
|
Via


Parts 2 and 3 after the cut!

*Pinches self* AHHHHHH!!!! One week, the final week of waiting. I can't believe it. And that means a super busy week of promo and the BD Premiere
Rob on Kimmel
Rob on Today Show
Rob on Regis & Kelly
Rob on Jimmy Fallon
Kristen on Kimmel
AND did you see the epicness of
SWATH?!
This is just beyond amazing. Thank you Kristen!!
'Do you want me to sing to you? I'll sing all night if it will the bad dreams away.'
I forever wish we could have more of Rob singing as Edward. I guess he's just there to tease us ;)
Ah, can't wait to see this wedding. I'm not sure I'll be able to contain myself. A wallpaper for you to enjoy some of the beautiful stills from what's sure to be the most beautiful wedding in movie history



And here are the past ones just in case you missed them:) Thank you Karen:)