Archive for
10/1/11 - 11/1/11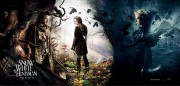 This from the
SWATH Facebook Page
First look! Check out the new banner art for Snow White and the Huntsman...and look for the teaser trailer debuting later this week! Like this post and share if you're excited to see the trailer.
Universal Pictures has released a big tri-scene banner for Snow White and the Huntsman. It's a very stylish piece, the entirety of which we've included after the jump, and it's here in the lead up to the release of the first trailer

this Thursday on Apple.com.

The film stars "Kristen Stewart (Twilight) plays the only person in the land fairer than the evil queen (Oscar® winner Charlize Theron) out to destroy her. But what the wicked ruler never imagined is that the young woman threatening her reign has been training in the art of war with a huntsman (Chris Hemsworth, Thor) dispatched to kill her. Sam Claflin (Pirates of the Caribbean: On Stranger Tides) joins the cast as the prince long enchanted by Snow White's beauty and power.


"The fact that it's PG-13 is probably the biggest challenge,"
Rob said.
"It's funny, because I've done PG-13 sex scenes and gotten away with a ton more than people were allow us to do in this."
"People were really really worried about it when we were doing it."
"It wasn't really supposed to be just about the pure physicality of it,"
he said.
"When so many people have imagined what Edward and Bella's sex scene is, you can't just do a physical representation of it which is gonna satisfy everyone. So I think Bill (Condon) was trying to get some visual representation of the emotional exchange or whatever. Some kind of transcendent feeling."
"It was kind of difficult to do. Me and Kristen had no idea what we were supposed to be doing,"
he admitted. Rob also talked about how Bella and Edward's honeymoon might not be as romantic as you first imagined.
YT thanks
Mfoc


(Talks about Kristen at 1:00 and some towards the end)
(Talk About Kristen at 3:10)