Archive for
9/1/11 - 10/1/11
MTV News caught up with "Cosmopolis" co-star Kevin Durand at the premiere of "Real Steel" over the weekend, and he had nothing but rave reviews for both the film and its leading man.

"It's awesome. We're just in postproduction right now. It's incredibly exciting," Durand said. "Robert is a very gracious, kind fella, and we had a great time [filming]. We had a really great time."

When asked what new sides of Pattinson's acting abilities we'll see in the film, Durand said we'll see an edgier, more adult version of the "Twilight" star. "He's got an edge to him in this film," Durand said. "He did some really excellent work that I think he should be very proud of."

The "Real Steel" and "I Am Number Four" actor went on to say that given the subject matter and action in the plot, the film will have a more adult rating and that fans should be very excited to see it.

"[It takes place] in present day, but it's its own time and place,"he explained. "Mr. Cronenberg has such an amazing voice. I myself am just as excited, probably more excited, than anyone else to see it, just to see what he's done with it."

YouTube video thanks to
RPLife

Anna Kendrick jokes about not kissing the leading man on her movies. Rob included. At 0:13



In her short career, Kendrick has already co-starred opposite three of Hollywood's dreamiest dreamboats: Gordon-Levitt, Rob Pattinson and George Clooney.

Has she gotten a crush on any of them?

"No," said the actress. "You have to be professional. And you're around them so much that you begin to think of them as family. It doesn't cross your mind after a while to think of them (romantically).

"The only people I might get doe-eyed over are the '70s versions of Harrison Ford and Paul Newman. Or, like, Cary Grant. So, I don't think I have anything to worry about on that front

Read the full interview here.

Adam Scott - 'Parks and Recreation' Star Sounds Off on Other Famous People


In honor of the new "Parks & Recreation" season, we went souvenir shopping on Canal Street with Scott last week. Herewith, some of his thoughts on other celebrities, explained while perusing Obama mugs and "I Heart NY" t-shirts:
On Rob Pattinson: "No, he is not putting out an album! God, I don't understand actors who put out albums. I don't think anyone should take being a famous actor as a cue that it's time put out an album. I mean, can you imagine how many album he'll sell? So many. So why not, I guess. That would be cool if he came out with an album of really weird growly rock. I would love that, but I fear it'll be navel-gazing acoustic balladry that'll make me want to kill myself."
Source
|
via
Charlie Simpson: "[A duet] would be awesome, I'd be well up for that".
Charlie Simpson says that he would jump at the chance to duet with Twilight star, Robert Pattinson. The former Busted member says that Pattinson has got a great voice and he's love to work with him:
"I heard one of his songs, I think it was on the Twilight soundtrack, someone said I should check out his stuff. [A duet] would be awesome, I'd be well up for that".
Simpson's band, Fightstar, are currently on hiatus and the singer released a solo album, 'Young Pilgrim', in August.
Source
|
via
via:
RPLife

Hollywood stars have told onlookers at a Welsh film set of their hot new love interest – the Pembrokeshire coastline.
Producers and actors in the latest US blockbuster to be filmed in West Wales have reportedly spoken of falling "in love" with their beach location. The village of Marloes has been thrust into the limelight this week as filming for Snow White and the Huntsman began, with A-lister Twilight's Kristen Stewart and more than 50 actors on horseback galloping along the beach.
Jenny Phelps, who lives in Marloes, said she had seen Kristen Stewart looking "bewitched" by the stunning location.
"She was just staring across the sand looking mesmerised by the place. It has been amazing seeing all this happening."
Snow White and the Huntsman, which also stars Chris Hemsworth and Charlize Theron, and finished filming at Marloes on Friday, is due to be released next year.
Read the entire article,
here
.
Source
| via:
@bella374
| via:
Twilightish

I really hated the Eclipse kiss. I cant watch it some times. But, Taylor is a lucky dude. Not only he kissed Kristen, but also Rob. Oh my!! There went my fantasy.



Source |Via | Via


"I haven't gotten to work with [Kristen] yet ... it's mostly been me and my kingdom, alone, while everyone is out looking for her," she said. Production will resume in two weeks in London, where the pair will finally go head-to-head.
"We've had one day together, she did some off-camera for me and we got to hang out a little bit. She's super cool and she's going to be amazing in this," Theron said.
Source
|
Via

And the merchandise is starting to show up. Maybe I'll make a trip to our local Hot Topic to see what i can find. Yay!! I am excited. Only 46 more days till Breaking Headboards and lots of sex in Isle Esme :P




Source | Via| Via

Beautiful Bella Collage from Dee at livelovekstew




She has grown up before our very eyes. *sighs* Pretty lady is pretty :)

Check out all the 'Breaking Dawn' Merchandise
At Disc Shop


via Twilightish

This video from SplashNews is from the set of #SWATH on Sept 29, 2011- You can see all the HQ pics here!!



SplashNews | YouTube | Via




I think it's pretty clear. No matter the distance, the rumors, the haters; these two will continue to just be two people in love.


These pics are from back in 2008;)


From
Duncandiary
|
Via
The real story, however, was that on the flight to LA, I sat in the row directly behind the cast of the Twilight movie. Normally I'm not overly star struck but this was quite the strange situation because Natalie had just gotten the 4 book series of the Twilight story and read them all and loved them! She told me all about the story, told me she's dying to see the movie... and was just in love with the story. So here I find myself a day later sitting with all these people that she just spent the week reading about! it was just so strange!

Anyway, I would normally just let them go but because Natalie was so into their story, I just knew that I had to ask for a picture, and to let them know how much of a fan Natalie is already. They were extremely nice and very good looking, despite having been up early and just had a long flight. The picture doesn't do them justice but trust me, they were truly stunning.

More pics from SWATH today thanks to Kstewartfans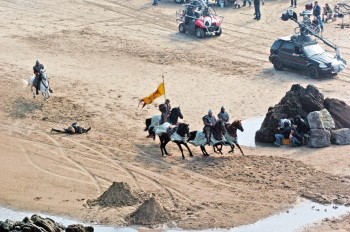 These were posted in large a few days ago. Now HQ thanks to KstewartFans