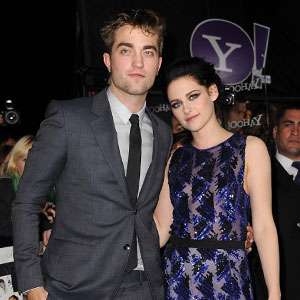 Hey Nonstens, still having a hard time believe Robert Pattinson and Kristen Stewart are a couple?!
Well, first of all, it's time to leave 2008 and your Robsten denial behind. And second, if you don't believe K.Stew herself ('member that whole "British boyfriend" bomb?), then how about listening to one of the twosome's Breaking Dawn costars?
Oh, and if that doesn't entice you, you might be curious to hear about Kristen's opinion on the "sexy faces" she rocked during the honeymoon scene…
But first, the relaysh stuff.
We caught up with Mia Maestro, who plays one of the vamps lucky enough to attend Bella and Edward's big-screen wedding, at the Breaking Dawn premiere held tonight at the Nokia Theatre and asked her what kind of pressure she thought Rob and Kristen were under to perform in the post-I-Do honeymoon scene
"They're a couple in real life," Mia so casually commented. "So I think it's easier when you have to do things like that with someone that you're comfortable with."
Sure, that might be totally whatever for M.M., but we know you Twi-hards love hearing any confirmation you can of the couple's canoodling.
Oh, and as for the honeymoon sexytime pressure, K.Stew filled us in on her point of view:
"You really do reconsider your sexy face," Kristen—who looked fabulous in a blue and black gown—giggled when we asked her. "You're like 'Whoa, everyone's really heavily awaiting this.'"
But Kris was happy to forget the fans when it came time to roll cameras:
"Didn't really think about it, to be honest," Kristen—who seemed totally comfortable despite the fans freaking out—continued. "The last way you want to remember something you've been building to for years is just actor-y, weird choices and neurotic weirdness. I remember things for the genuine experience, and that's rare."
As for Rob? His only concern was his six-pack.
"Pressure only in that I had to be in shape for the first time in this whole series," Rob, who wore a navy blue Gucci tux, told us.
Rob, we've said it once and we'll say it again: You looked great. And we're sure your GF Kristen agrees