Magazine scans + HQ Stills + Translation all under the cut:)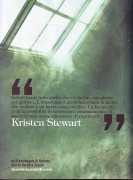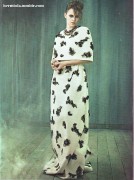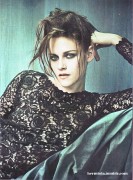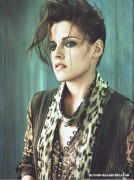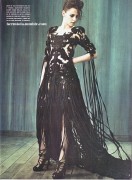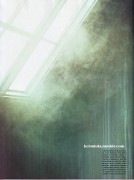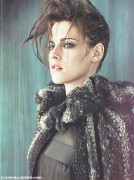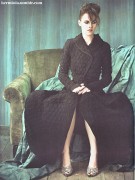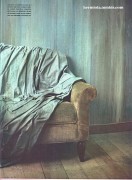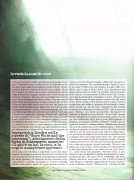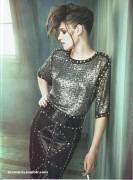 A translation of her quotes only. There's nothing in the rest. Except that her favorite fairytale is "The Jungle's Book". I apologise for any mistake you'll find :P


(On her parents working in the industry) "Both my parents work in film and telev

is

ion, they used

to

bring me with them at work, where I saw people of every age acting, even children: I immediately unders

to

od that I wanted

to

do it

to

o."

(On why she likes

to

joke on set) "There's a lot of free time, I have

to

enjoy myself somehow!"

(On where she'd like

to

land if Captain Kirk could take her back in time) "Around 1948, 1950, so I could l

is

ten the beat generation's bebop, blues and jazz."

(On her Snow White) "Yes, but it's a very original Snow White, a warrior who even wears an armour!"

(On the beach scene she shot for SWATH) "Oh yes, that's the scene that sees me finally free after my escape from the Evil Queen. I love that dress, it's gorgeous! Wearing it helped me

to

get in

to

character. The weight of the wet fabric, for example, helped me

to

understand the troubles Snow White has

to

face

to

escape from her destiny. The hair

is

also fundamental for

this

role. These are extensions, my hair

is

shorter, it reaches my shoulders, more or less. The color

is

n't mine either. Since I've been acting, I've never had my natural haircolor, which

is

light brown. But it's okay, it's fun

to

see yourself differently when you look in the mirror."

(On what kind of clothes she wear) "I'd love

to

wear very feminine clothes, but then, in the everyday life, when I'm in Los Angeles, at home, I'd rather be comfortable. Whereas, when I'm away, like in

this

case, I pack all kinds of clothes, for the evening as well, because I think that maybe I'll get a chance

to

wear them."

(On how long it takes her

to

pack) "I'm really organ

is

ed. I just have

to

open my wardrobe and choose. But you see, even if I bring lots of clothes with me, it always ends up like

this

: tank

to

p, jeans and sneakers."

(On doing exerc

is

e and staying fit) "I'm naturally skinny. We're all like

this

in my family, so I don't have

to

exerc

is

e a lot or go on a diet. I do all the exerc

is

e I need on set. Right now, for example,

to

play Snow White I never s

to

p: I run, jump, fight with swords, horseride... I do all kinds of stuff! You see, I've even injured myself! But it's nothing serious."

(On her energy on set) "It's true, I don't lack the enthusiasm. If there's something

to

do, I say: 'Come on, what are we waiting for? Let's do it!' Because I'm eager

to

start.

This

way of doing things helps me

to

always keep a high energy. I like going for new projects."

(On her upcoming projects) "Right now, there's nothing certain. I'll take the chance

to

go back home,

to

my family, and enjoy some free time.

This

, right now, it's my ideal holiday. I travelled around the world for my job, often whi

to

ut even real

is

ing where I was. I like travelling, but right now, I need

to

recharge my batteries."

(On what kind of actress she

is

) "I'm not one of those actresses that maniacally prepare themselves for a role. On set, I do whatever I need

to

do, but day after the day. If I have

to

improv

is

e, I improv

is

e, if I have

to

learn my lines by heart, I do it. There are certain screenplays which are so beautiful, that they only need

to

be repeated as they are, without any changes. I live in the moment."

(On why she loves her job) "Why worrying before a job? I love my job and I want

to

fully enjoy it. I love it, I'll never s

to

p saying that. Seen from the outside it may seem like a fairytale, and maybe it

is

; but there's a lot of commitment behind it and even a few sacrifices. I, for example, love

to

sleep, but every morning I have

to

get up really early

to

go on set. I win over my laziness, I get up and I happily go

to

work. The important thing

is

to

keep in mind that acting

is

like any other job. A job that gives you the chance

to

keep reinventing yourself, living new emotions and expressing yourself, but that doesn't really make you different or special. Anyway, I know I'm lucky, because what happens when you're acting, it's extraordinary. Sometimes you're so deeply taken by your character or the s

to

ry, that you almost r

is

k

to

lose yourself. It happened

to

me when I shot "Speak". I played an introverted girl that decides not

to

speak

to

anyone, ever again. Her silence it's how she defends herself from other people: her schoolmates, her teachers, her family even herself. At the end, it was hard

to

leave that comfortable silence I had created for myself. With silence you get peace and even your thoughts are more organ

is

ed, it's extraordinary and really hard

to

explain. I lived an interesting experience with "On the Road" as well, where I play Marylou: I explored the freedom of actually living "on the road", mentally and physically. That's what I'm talking about, it's the magic of acting."

(On what kind of w

is

h she'd make, given the opportunity) "Oh God, don't ask me about w

is

hes! When I'm in front of a birthday cake, with all the lit candles, and everyone reminds me

to

make a w

is

h, I just blackout. I think: what do I w

is

h for?, and nothing ever comes

to

my mind. Then I close my eyes, take a deep breath and the w

is

h comes out. I don't really know how

to

explain what happens inside of me, but that's what happens: breathing

is

the key

to

understand what I really care about."

(On whether she has any w

is

h for her job) "I have everything I could w

is

h for. I receive lots of job offers, job offers that are often interesting. Really, I don't know what I could w

is

h for... I don't even have a particular role I'd like

to

play or a direc

to

r I'd like

to

work with. I just let things happen."
Vogue Italia November 2011 by Michelangelo di Battista
Raquel Zimmermann is on the cover. On sale date is listed as November 3rd.
---
Actual HQ Photo Shoot Stills