Its countdown time for the Breaking Dawn Paris Fan event that should start in only 5 hours. We will update this post through the day with HQ pics and videos etc... You know how we do:)) Here are the first fan pics of Rob in Paris last night.
It's official Breaking Dawn Promo has begun. There is no turning back. I repeat... There is no turning back. LOL
*Each segment gets updated constantly and the new pics are always the last ones* Keep refreshing because this day is so not over yet:) *
HQ Pics | PattinsonLife | RPLife
---
Rob solo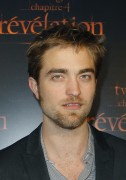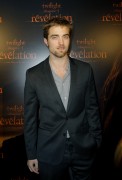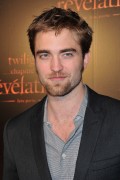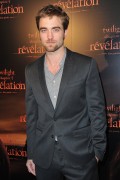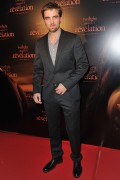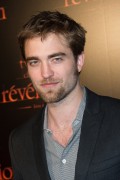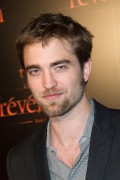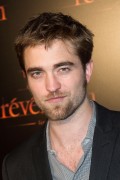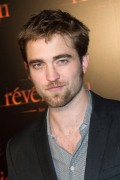 ---
Photocall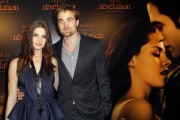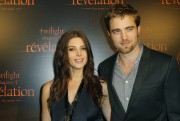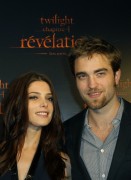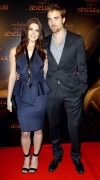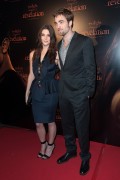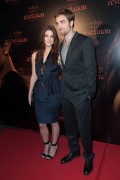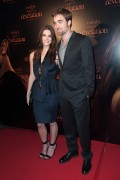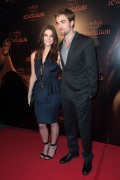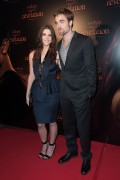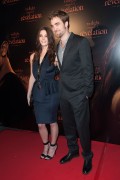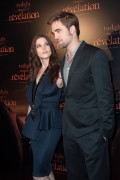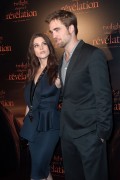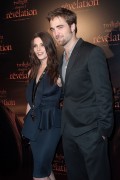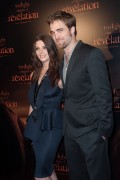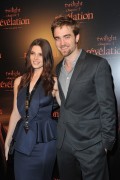 ---
Signing for fans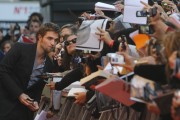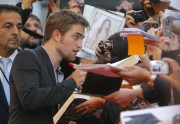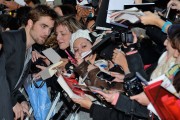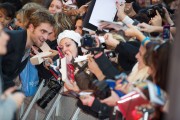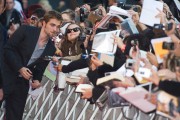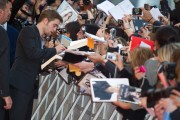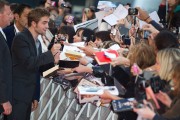 ---
Entering Theater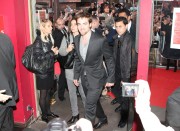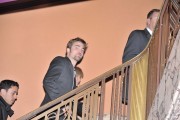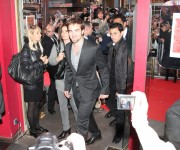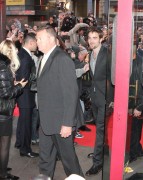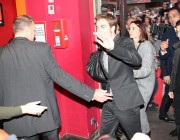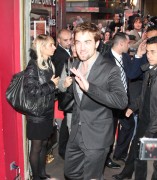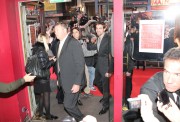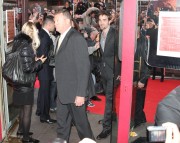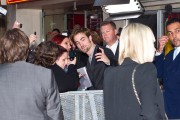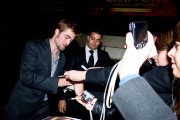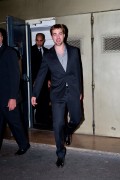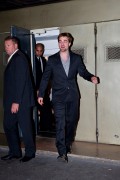 ---
Fan Pics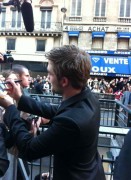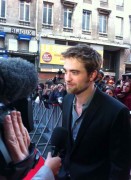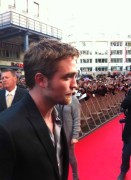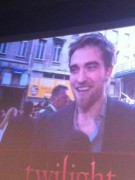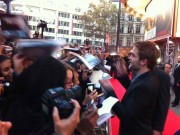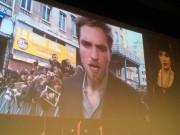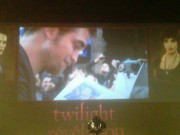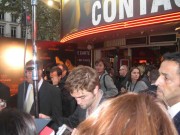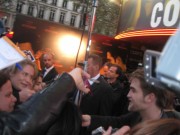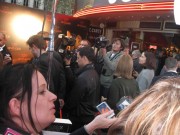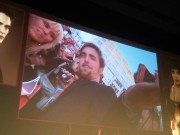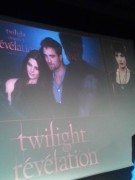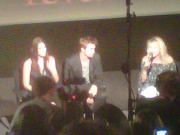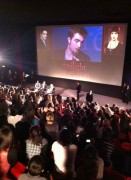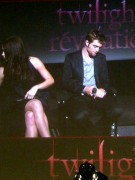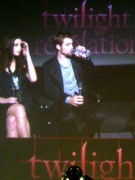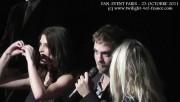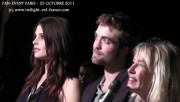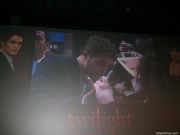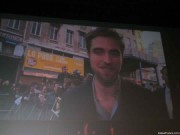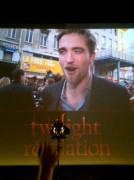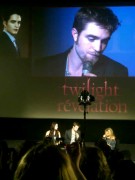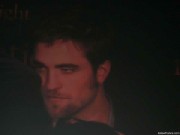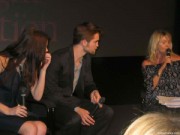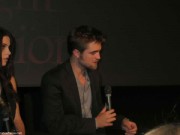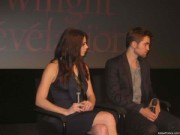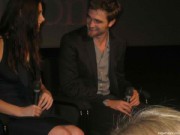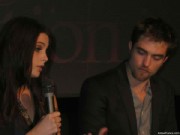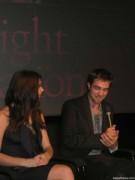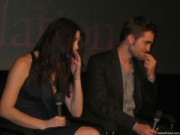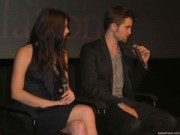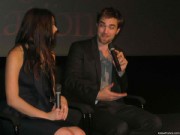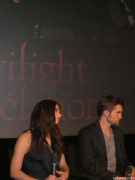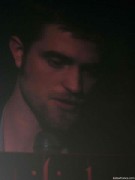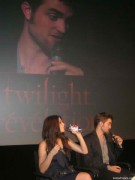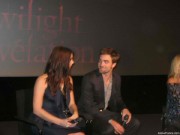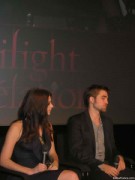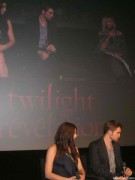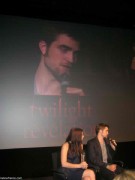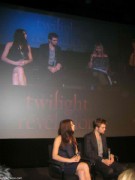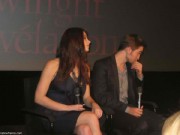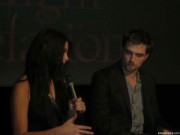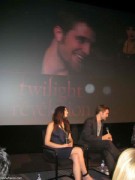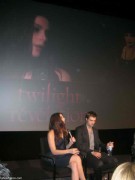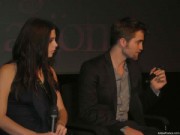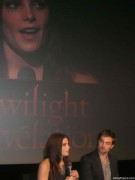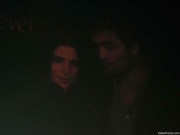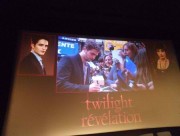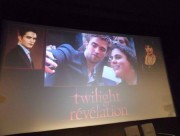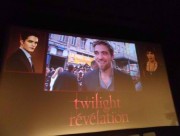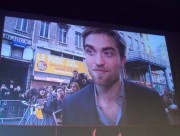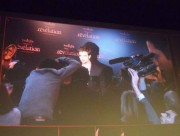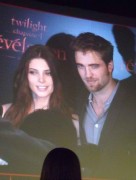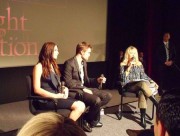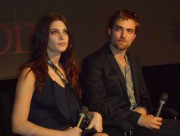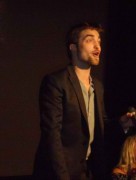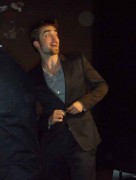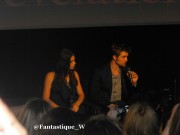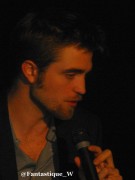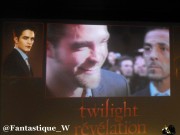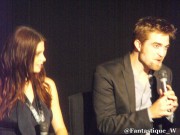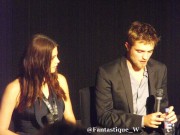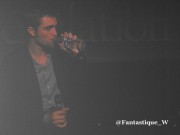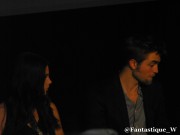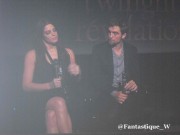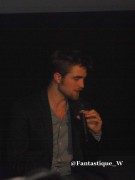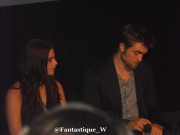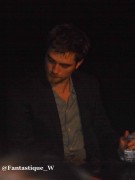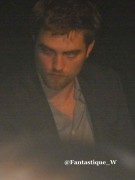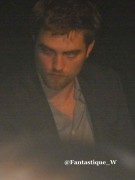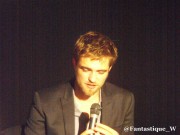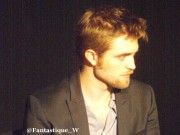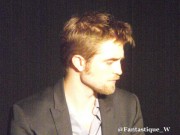 Videos:
Q&A
Fantastique_W fan event Paris Rob at Ashley |
sendreen
Question/Response Paris Fan Event Breaking Dawn |
Memory2clara
A short video inside the theater.. Rob talks about Twilight and how it changed his life:)
Robert Pattinson & Ashley Greene Paris Fan Event |
minoucastr3
Red Carpet Interview
@Fantastique_W itv Robert Pattinson fan event paris |
sendreen
This is the vid where a fan gave Rob a present) OMG so adorable how he smiles!! He knows he is the English Boyfriend!! |
ladizParis
Robert Pattinson Paris France Twilight Revelation Breaking Dawn |
exponaute
Video of Rob at red carpet interview |
Memory2Clara
Video of Rob arriving the event
Signing and leaving the event
---
Fan Tweets + Encounters and more:)
By @LoveTheStew
I'm on the red carpet line already, there are soo many people ! Some of them camped out !
On the red carpet line. Rob, hurry up
I'm so tired. We have 6 more hours to wait till Rob is here.
They put the photo call outside :D !!!
They are starting to put the carpet ! It's a black carpet !
It's a little confusing we don't know if it's a black carpet or something for the photo call
Okay they told us it's for the photo call. So no black carpet for now ;)
Okay they are now putting the real red carpet :)
The surprise we have for Rob is about " the English boyfriend thing" and Bear ... More details after the event haha ;)
Dean is here !!!!!
I also saw the bodyguard that Kristen had when i met her :,) so much memories. But Kristen is not here ;,/
They are 24 people for security.
It's starting in 2 hours.
Fans are getting inside the theatre the Red Carpet is gonna starts in few minutes
It's about to start. everybody is getting ready
Rob leaving his hotel in 3 min. ( It's very close from the red carpet ! ) Starting sooon
OMG THE BOSS of the movies came with Rob's BG and said she wanted Rob to take pic with my friends and I ! Bc i talked to her
There are here !!!!! In the car djdxjds
He is here !!! In grey
Beard !
Doing press
Omggg i have to tell you about the present omggggg he looooooved it
Omfgggg !!! The director of the theatre invited me inside !!!! I'm INSIDE !!!! Omfdnxcjxdjsd
They are inside the theater !! It's starting
He is drinking . ( Water)
Shave it Rob. Just shave it ! ( Looks much better in real though)
"Twilight changed my life" so cuuute
He can't stop drinking water lol :p ! He tried to translate himself , so funny
" Kristen is incredibly lucky to have you Rob" he smiled cute
Delivering the baby was the most funny thing
" They love us" Rob to Ashley about us lol
Okay so the gift,
1. A poster where it was written " for Bear , Kristen and the English boyfriend" and he LAUGHED so much!
And he said " awwwww thank you so much" a million time and he made sûre i had an autograph and i asked for a pic and he told me " of course!
And before he left he said thank you so much again. He laughed so much when he read " for the english boyfriend"
In the poster we replaced Bear's name by beer and in a buble we put a beer instead of a bone. So we gave him the "beer dog" toy.
"Souvenir from Paris for Bear, Kristen and " the english boyfriend" was written on the back of the poster. He didn't open the poster but he did read it and i told him " it goes with this" ( the toy for the dog ;) )
Here is where it's written " the english boyfriend". He laughed :P

And here is another pic we took yesterday of the gift. It's a can of beer.

I will never forget his face when he saw it lol.
And yeah it says " Same parents , same dog" on the bottom of the poster. I'm not even sure this sentence is correct in english
I had 2 pics with rob ( one before the present and one after) and his autograph on RM
I asked him for a pic , he looked at me " Yes of course !" and he came back to take a pic :)
The reason we gave the poster today is bc we gave him this for wfe and he said " awww thxx !! "

Rob is incredible with his fans, really ! He really cared about everybody.
Rob's autograph :) i love that he did write " Rob" :)

THE VIDEO AT ABOUT 0:40 HIS REACTION
Now that you all can see the video you can see that i didn't lie. Another video is coming. A longer one with his " thank you " & stuff
By @SomeLostBliss
We're in! :D and really close YAY
Omg there's a sosie of Josh H asking him Qs right now. IS THAT A SIGN LOL
One girl mentioned kristen. Said kristen was a very lucky girl before asking her question.
He wasn't smiling at all tbh. He looked at the ground and then his whole demeanor kind of changed. He was more ~guarded.
Well tbh, he had a poker face on. He didn't react at all, he just looked at the ground and waited for the girl to ask her "real" Q.
As someone who loves R&K as a couple, I can tell you it was true though. =/ I was kind of disappointed because I was expecting
a smile or something. But he kind of acted like he hadn't heard anything. Which is not really surprising.
Well idk, He was here for work so it makes he wouldn't say anything about it, or react to it.
LOL I was so proud when the girl said that about kristen tbh. LMAO Her accent was flawless. Better than the translator. It was hilarious.
So basically the ~10mns we were shown were BTS that has never been scene AND the scenes from comic con.
I'm kind of disappointed right now tbh. Summit sucks balls when it comes to organization in general.
The questions were boring as hell. Rob acted like he didn't want to be here and I kind of understand why tbh
One girl asked if rob could sing a song for us. He refused saying he was embarrassed.
Even thought summit made the event a disaster Rob and Ashley were so awesome :') he was smiling and giggling. WELP
Dean smiling as Rob said his dream role would be to play a character that has to shoot someone.
When Rob said that, Dean was shaking his head from side to side with a big smile on his face, it was adorable. =333
At one point, Rob was laughing his ass off because the Qs were only from guys & he was surprised as it was the 1st time it was happening
LOL Almost all the Qs chosen from Facebook were from guys.
Oh! And Rob we also laughing explaining how it was to film the birth scene. He said he couldn't stop laughing & it was so funny he didn't feel like he was filming a dramatic scene. Said there were tons of medical stuff and at one point someone in the scene screamed "Let's get this baby out!" pmsl.
We saw some new BTS stuff.. EB kissing in the kitchen, kristen on Rob's back for the waterfall scene, Edward asking from behind a door if
Bella was feeling okay. (When she is in the bathroom and realizes she's pregnant). E putting a cover on bella's sleeping body..
There was also one moment when Bella was laying on some bed, stroking her big belly. Another part with Edward pushing Jacob against a wall.
Half of those supposed 10mns were small interviews of Nikki (LMAO the joke), Booboo S, Jackson, Julia J and some part w/ kristen.
Oh, I remember they showed some BTS of Rob lifting Kristen up on the beach just like he does when they enter the house on Isle Esme.
I think they filmed this part in different places and chose to film it when they enter the house. I mean, he's not gonna carry her 545 times
At one point, Rob said Twilight changed his life and everyone went "awwww". LOL Then him and Ashley were rolling their eyes.
By @AnnieMary83
Ok im in front of the theater where the fan event will take place... Lets just wait...
Omg the girls are just crazy! Theyre fighting, screaming lol
Im such a lucky bitch! I was at the end of the line, then a guy from the event came and ask everyone to move back...so now im in front lol
We're getting ready to get inside...
Ok we're in!! Just in front of him!
Oh my god, im so close to him!
We also have the big screen for the clip ;)
Rob's not here yet...
I will try to tweet u the Q/A if i can get my eyes off of him!
Ok now they showing us pics...
So, pictures on the big screen, dont worry its nothing that we didnt already seen!
We can see on the big screen the fans outside waiting for Rob...i ll let u know as soon as hes here!
Ok ill tweet every pics! Im waiting for him to come inside now!
Ok now he's'gone and we're watching the clips, they're the same of the spain event, the honeymoon and the wolfs!
as for Rob, well he's handsome, so shy, so polite....his eyes, hands, voice.... kill me now !
some asked him whats his fav song/singer, we all said "Van Morrison", he laughed and said "actually im gonna say one of my friend, Marcus Foster" i was like "awwwwwwww"
another fan, another question, but before, she said "first id like to say that Kristen is a very lucky girl" and as soon as she said that, i looked at him, and i know someone said that he smiled, but i didnt see him smile AT ALL, he was like pokerface, no expression, and he waited for her question !
no, no, not like pokerface about the fan being nice to Kris, but like "i wont make any comment on that..."
then, yes there's this question that he tries to translate himself, and poor baby he got it all wrong, no Rob we didnt ask you about you fav type of cream !! lol he was embarassed and he smiled shyly!!
oh and he was drinking NON STOP, as always lol but dont worry i have pics of him drinking !! ohhh yeah watching him drink a bottle of water it just ghfglnlfngdlkfjgdg hehe !
When we were waiting for Rob inside the theater, we were listening Eclipse ST, "thousand years" and "it will rain" ...
then someone asked him to sing, the classic question but we all know that he never did and will not sing.... so he didnt do it, girls were like "pleeaaaaaaasssssse", he smiled shyly and said no
he said twilight has changed his life
at one point some girls said "we love you ashleyyyy" she said "me too" then the translator said "they love you back" and Rob leaned toward Ash and said "yeah yeah its all about love" and laughed
he also said "i hope you'll enjoy BD"
humm what else, when he was asked about the best/worse memories on set, he said "actually there's a lot of bad memories" and he laughed, then he said the classic answer, like it was freezing etc ....
omg i never should have said that he didnt smile about the "Kris" thing lol !! no need to drama pps !! we all know that they dont want to talk about it ... its not something new !!
We get the same clips as the spain event, i've only recorded the honeymoon, not the wolf clip... plus another clip, like a BTS thing, where Bill, Jackson, Booboo, Nikky, Ashley are talking....and there're very short scenes where we can see B/E kissing in the kitchen, and another one where B's sleeping and E puts the cover back on her, and we can see those beautiful, perfect legs of our girl ! I think she's wearing a short short ;)
in the vid we also see, B lying on her "hospital bed" with her huge tummy, R feeding B, E calling B from outside the door, E/B in the water, ppl dancing at the wedding.
Source:
1
|
2
|
3
|
4
|
5
|
6
|
7
|
|
8
|
9
|
10
|
11
|
1

2
|
13
Video sources :
1
|
2
|
3
|
4