As a fan of Rob and Kristen I can't wait for the day I get to meet Rob or Kristen, or both! Some fans are lucky to have meet them, some even multiple times. Michelle (@MichelleOB13) contacted us to share her experience meeting both Rob and Kristen. And they truly are super nice people. (We already knew that though) Thank you SO Much for sharing your stories and pictures with us!!*


Meeting Kristen
June 29, 2010
So I met Kristen on
June 29, 2010
at the
Today
Show in New York City!!! I was extremely nervous because I had gone the day before to see Taylor Lautner and just missed meeting him as he ran out of time and had to go in for his interview. So I was hoping the same thing wouldn't happen again. We got in line around 3AM and then when we were allowed to go in we went to our spot and thought we had a pretty good chance she'd come to our section. Time went by and still no sign of her and we knew she would have a quick visit since she had Regis and Kelly right after. Then I looked inside the studio and saw her Body Guard a.k.a Hot Body (HBG) so I knew she was there. We were talking to one of the stage managers and he said the interview was going to be held across the set from where we were standing so I made my way through all the people and somehow squeezed myself into a great spot of where the interview was going to be held. Five minutes later she came out I was totally star struck I was right behind the interview and got on t.v. for a split second. But that's far from the point then she turned around to us she signed my Eclipse book and I think I was saying oh my god this is the best day ever and she just smirked and then I was like Kristen can I get a picture and she was like "ya sure hold on one sec" and then she walked like five people over and then came back to me to take the picture she was soo sweet! So I had someone take the picture of us and of course the camera was on zoom mode so it was just our faces but whatever I still Met Kristen Stewart and got a picture. By the time she made it over to our original spot where my friends were standing she was only signing and not taking pictures. My friends not really a crazy fan like me so she held my magazine and got Kristen's Elle cover signed for me. I feel so grateful to have met her even if it was only for like a minute it was still amazing!!!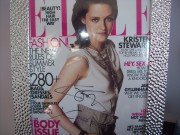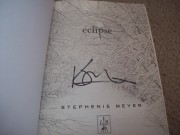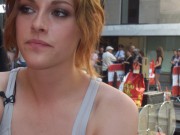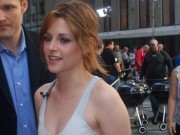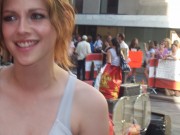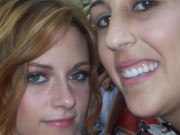 Meeting Rob
April 17, 2011
So I got to meet Rob at the Water For Elephants NYC Premiere! 200 Wristbands were to be distributed at 9:00AM on 4/17 so we were planning on going around 3 or 4AM to get in line. I had never been to the Zeigfeld Theater before so we went around 6pm the night before so we knew where we'd be going in the morning. When we got there, there were already about 15 people in line and it was pouring out but it was covered and we were like oh my god what do we do that's a long time to wait in line. So we got in line because there was a WFE Book signing going on across the street so we knew that they would all come over and race in line. Two out of the four in our group ending up lasting the 16 hour wait in line! We got wristbands 18 and 19 out of the 200 given out. During the premiere before hitting the red carpet Rob signed and took pictures some say he signed for like an hour! So Rob came down and almost passed me and I just said Rob Rob can I get a picture with you and he said yes I couldn't get my hand out far enough to get the picture of the both of us so Rob offered to take the picture so he took my camera from me and took the picture well he actually didn't take the picture he hit the off button but luckily one of the girls I met in line got a shot of us together which I'm soo grateful for but to have Rob take my whole camera and offer to take the picture of us was soo incredibly sweet of him!! So Kristen never walked the carpet so everyone was exhausted and thought she didn't come. Fox PR people said we could wait around for the show to get out but said nothing about Kristen being there. So we were exhausted and left and then of course Rob and Kristen leave the theater together I was soo bummed out that I left just. Seeing Rob and Kristen together would have been amazing! I just regret leaving so bad. But I mean I can't complain I've met both of them and I know there are soo many people out there who haven't had that chance. I am truly blessed to have met them both.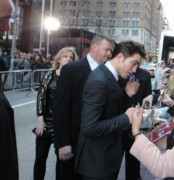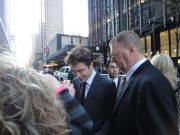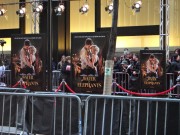 Thanks again Michelle!!
*If you choose to use the pictures please source Michelle (
@MichelleOB13
) and RobstenDreams, thank you!