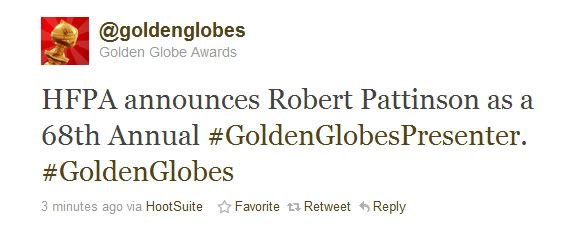 goldenglobes
|
via
|
via
Oh dear lord thank you for making this year a freaking awesome:) Who's excited???? Tuxedo Rob yes thank you!!!!
Golden Globes Announces Robert Pattinson as Presenter:)

Robert Pattinson, Matt Damon and Jennifer Lopez are the first three presenters to be announced for the 68th Annual Golden Globe Awards.
Damon will present Robert De Niro with the Cecil B. DeMille Award.
Lopez debuts as an "American Idol" judge this month, while Pattinson's Water For Elephants comes to theaters in April.
The ceremony will be broadcast live from the Beverly Hilton Hotel on NBC on Sunday, January 16.

Okay this is very very EXCITING!!! Rob and Kristen tomorrow at the People Choice Awards and now Rob at the Golden Globes?? It keeps getting better and better:) I think this deserves another SQUEEEEEEEEEE right??