Archive for
9/1/10 - 10/1/10
Legions of passionate teenage readers came together in Toronto on September 25th, 2010 to celebrate their favourite authors and books at Indigo Books & Music's first Teen Read Awards. Whether rooting for the "Best Hero" or "Best Lip Lock", teens fervently cast over 334,000 votes at www.teenreadawards.ca and more than 500 excited fans attended the Awards ceremony hosted by Dan Levy and Jessi Cruickshank to witness the winner announcements.
Best Lip Lock: Bella and Edward from Breaking Dawn, Stephenie Meyer
To see the winners of other categories, click
HERE
.

A
ccording to Gather.Com:
'Twilight Breaking Dawn' is said to begin filming its final movie for the Twilight Saga in Brazil. Breaking Dawn will once again star Robert Pattinson, and Kristen Stewart in the leading roles of Bella and Edward.
There have been security concerns about filming in South America. "However, 23-year-old Greene who plays 'Alice' in the films told MTV News that shooting will now go ahead and that Brazil will be used as the location for the protagonists wedding celebrations, saying, 'They are filming a few days there, but I'm not there. It's Bella and Edward's honeymoon,'' according to Contact Music.
"Breaking Dawn" is being made into two movies from the small novella. The first of the two movies will be released in the fall of 2011, and the second and final movie is to be released in November 2012.
So the vampire craze will go on for two more years at least. The security concerns for the making the movie in Brazil is all the secrecy behind Bella's wedding to Edward. How will they keep the honeymoon secret from the paparazzi? Actually, we hope they won't. Any leaked scenes or gossip will be fun to report because the Fall of 2011 is just too far away for true "Twilight" fans.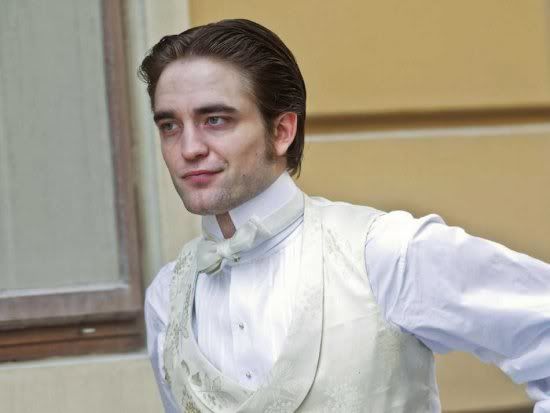 According to @NordicNina,

News from sweden distri scanbox. BelA in postprod until nov, plans to show the film in Berlin Filmfest in feb or Cannes in may!

The news is from Swedish movie distribution company Scanbox Entertainment. "Bel Ami" will be in post production until November. Then, allegedly, there are plans to show "Bel Ami" at the Berlin Film Festival in February and the The Cannes Film Festival in May!

The Berlin Film Festival is still accepting entries so no official schedule has been posted. November 1st is the deadline.
The Cannes Film Festival deadline dates I had difficulty finding.

With Ryan Reynold's Buried coming out soon, IGN movies has put together a list of the ten greatest movies set mainly in one location only.
Unsurprisingly set in a hi-tech panic room (if there wasn't a room and at least a little panic, we'd be on the phone to Trading Standards), this is David Fincher flexing his muscles: he didn't need to make this movie, but wanted to show he could anyway. Jodie Foster and a young Kristen Stewart are the mother and daughter holed up in an expensive, oversized coffin, while Forest Whitaker and his cronies attempt to infiltrate the impenetrable. Fincher, meanwhile, swings his camera up and down stairs, in and out of air vents, and at one point, through the handle of a coffee pot for absolutely no reason. Pfft. Show off.

Celebrity Lookalikes
Spotted on the set of his latest film The Woman In Black, Daniel Radcliffe is a dead ringer for Robert Pattinson when he was filming scenes for Bel Ami back in Ap

ril

.

Sure the old-school costumes and side hair partings help bridge the gap but we still think these two young actors are morphing into each other. Does that mean we can expect a double cameo any time soon?
Say WHUT?? Really??

Before shooting began Robert Pattinson came into the kitchen where we were watching and asked if anyone knew how to tie his tie for him, sadley none of us did, but now I wish I would have given it a try. At least I could have looked into his golden eyes :-)

source | via brandheroin
Awww he looks so gorgous:)

I have to admit that I have a girl crush on Kristen Stewart!! I mean any true fan of Rob will be a fan of Kristen! I just have to put that out there!! Have any of you ever noticed her fabulous long legs?? I guess that is really a rhetorical question because how can you not notice them!? I mean every time I look at her, all I see is that beautiful face and then her ever ending long legs. Ever wonder why she is clumsy at times? (Don't get me wrong that's what I love about her.) I mean seriously, if you had legs like that and put them in some fabulous 6 inch heels that would be very hard to walk in!! After all she is a converse girl and that's why we love her!! She may be clumsy but she still struts her stuff in those amazing heels!! You would think the heels make the legs but in this case the Louboutins don't make her legs. They are fabulous on their own even in cut off jean shorts and tennis shoes. I think she does a fabulous job of walking in those heels. Have you ever walked in 6 inch heels? I have!! I can't obviously afford a pair $800 heels but I went to try on the knock offs and it's like trying to walk on stilts and Kristen makes it look effortless!! This is the many things that I adore about Kristen. She is herself, true to the very end!! That's what draws everyone in. She is not afraid to hide anything including those daddy long legs of hers!! Have you ever heard of the song by ZZ Top, "She's Got Legs and She's Know How to Use Them"? Well, if not you should you tube it and check it out because this is the song that I hear in my head every time I see her walk in a room!!
Even Rob can't Keep his Eyes off those Legs or Maybe He is Looking at Something Else!! Hottt!!

Our Mountain Man is back in the States and looking fine as ever!! Man, I am glad to see that face!! We do have a little pic of TomStu in the background following Rob. So today is Happy Wednesday for Everyone!! Now lets see if we can see some KStew pics soon!! That would make the week!!



I have never seen this one before

Love her with blonde hair

Thanks To
twilightsexygal