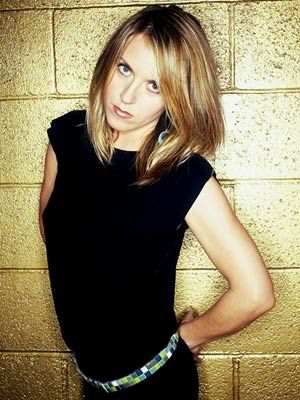 In an interview with
Gothamist
, Liz Phair talked about the quick succes of her debut album and mentioned her response to it is something she can relate to Kristen with (??):
Rolling Stone called your album Exile In Guyville one of the 500 greatest of all time, and you recently did a tour supporting its re-release where you performed the album from start to finish. I've talked to other artists who have done records that in people's minds are this milestone, and for them it can be as much of a burden as a blessing. My Bloody Valentine comes to mind. And for you this was your debut album. Was there a downside to starting off with so much success?
There was. There was a lot of downside to it, because when I was working on that record I wasn't happy at all. I was panicked and really wasn't prepared. I had never played out and suddenly everyone's coming to see me play. We're talking like, just throwing someone on the stage, but with reporters and shit. I got minorly anorexic I think. I look back at some of the pictures and maybe fashion-wise I looked good but I don't think I was - I can see that that's not healthy-thin. I just felt assaulted personally.
Sometimes I look at Kristen Stewart, the way she's all like that and I can relate to that at that time.
And it also became, Everybody just wanted Guyville again (...)
Via GossipDance