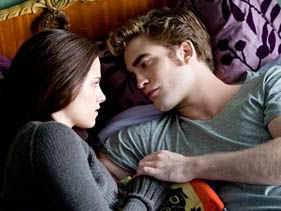 Last year we listed off the movies, TV shows and other pop-cult gems we were most excited for in 2010, and though the Wizarding World of Harry Potter got the top spot (come on, it's atheme park), "The Twilight Saga: Eclipse" was the movie we were most looking forward to. It's been a big year for "The Twilight Saga," and "Eclipse" definitely did not disappoint. As another year of "Twilight"'s domination is about to begin, we figured now would be a good time to look back at the series' biggest moments in 2010.
"New Moon" had hit theaters only several months before, but "The Twilight Saga" started 2010 off with a bang when there was reportedly some drama between Stephenie Meyer and Summit Entertainment over "Breaking Dawn," though the "Twilight" author quickly dispelled that rumor. That was followed closely with producer Wyck Godfrey's announcement that "Breaking Dawn" was gearing up to film the coming fall. We were all holding on to every will-they-won't-they rumor (3D? CGI Renesmee? One or two films?), and it took the majority of the year for any of those questions to be answered.
By the time June finally rolled around, we had two things to look forward to: "The Short Second Life of Bree Tanner" and "Eclipse." We camped out all night for both, and both surpassed ourexpectations.
"Breaking Dawn" filming is now underway, and we've seen awesome paparazzi pictures of Bella and Edward's honeymoon and the Volturi hanging out. Of course, we also found out why Bella is covered in feathers. The "Eclipse" DVD release got us looking forward to a whole new year of "Breaking Dawn" news as we count down the next 11 months until the first film hits theaters. After all, there's soundtracks to be announced, awards shows to sweep and relationships to cross our fingers for in the meantime, and probably lots of "Twilight"-related fodder we can't even begin to anticipate.