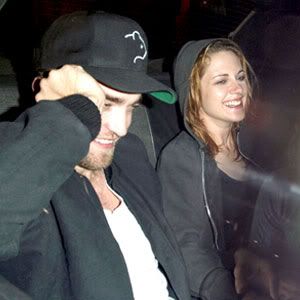 As we told you last week, Kristen Stewart and Robert Pattinson did end up spending their holiday break (from Breaking Dawn) together.
What would you expect a totally in love couple to do?
Rob and Kristen were spotted out together in Los Angeles over the weekend, at a low-key hang:
An employee confirms to E! the on- and off-screen couple stopped by Roxy's Famous Deli in the San Fernando Valley on Friday night.
The gorg duo apparently flew way under the radar, and was left pretty much alone, says an onlooker who, well, really didn't care (or care to gawk).
No wonder Robsten much prefers hanging in the Valley! Kristen is always over there, and goes fairly unnoticed.
Stewart's parents live on the other side of the debauched Hollywood Hills, so we assume that's where R. and K. spent Thanksgiving. Because we hear they did spend it together.
For you Twi-Hards keeping track (and bitching in today's mail), Saturday is when there was another Rob sighting out in Hollywood.
Glad these babes are getting some down time together before they head back to Louisiana.
Another couple seemingly on right now is Rachel Bilson and Hayden Christensen, who were spotted out to dinner recently at the Bazaar in the SLS Hotel all lovey-dovey.
"They walked in holding hands and when they checked in, her head was on his shoulder," an eyewitness dishes. "They were very cute."
The twosome sat in the back corner, next to a table where Mila Kunis and Woody Harrelson were eating, and ordered a variety of dishes, including the Philly Cheesesteak.
As we said, the two started talking again after calling off their engagement months ago so perhaps they are on track to getting back back together.
Elsewhere in H-Wood, a guy not exactly having a low key evening recently was Kiefer Sutherland, who was hanging with pals at Station Hollywood before enjoying dinner at Delphine at the W hotel until around 2 a.m.
The 24 dude must have had a taste of something he liked, because he returned the next morning looking slightly hungover, er, tired as he recovered, chowing down on a plate of steak and eggs.