Japanese TV Magazine 'TV Taro' December – 2010 Issue
'The Twilight Saga: Eclipse' special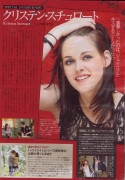 Interviewer: So, in Eclipse, Bella has negative feeling for marriage, how do you feel about it for yourself?
Kristen: Well, I don't deny getting married. Not that I am saying that I will marry soon, but I do have a wonderful family. So in the future I would like to have one for myself.

Interviewer: In what circumstances do you feel you are happy?
Kristen: When I am not lie to anybody including myself.