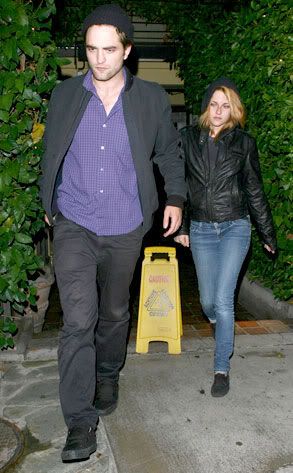 After a lovey-dovey date Saturday at Soho House, Robert Pattinson and Kristen Stewart hit the town together again last night!
Robsten went to dinner at the romantic and deelish L.A. Italian restaurant Ago on Melrose, and weren't exactly pleased with who was waiting for them:
TWITTER: Follow Ted!
R & K tried to sneak in and out of the back entrance unnoticed (and left together in a cab, totally cool!), but naturally the paparazzi had their moves on lockdown. And you could tell the couple wasn't thrilled.
Obviously we wouldn't be happy either if cameras were shoved in our face all the time, so we don't blame the two for not throwing up a peace sign and being smiley.
Hence the reason they occasionally make an appearance at the Soho House, where it's impossible to get papped coming or going—unless you pull a Paris Hilton and have dinner at stalkarazzi swarmed Boa before.
Still, Ago isn't exactly the most incognito restaurant to go to, so we don't think Robsten was totally trying to hide. As they shouldn't!
"They aren't putting on a show with their relationship, but it's not exactly like it's a big secret anymore either," Deep Twi dishes to us.
We actually think Pattinson and Stewart have the perfect balance. They give us something without having it be a fauxmance.
But on to the important stuff—how good do they look, still slightly grumpy? We're going to be sad to see Stewart's light locks go, but as for R.Pattz, he looks so yummy all shaved
eonline via kstewartnews/via