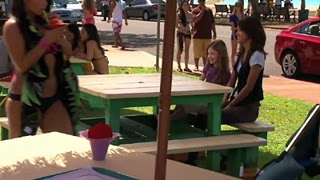 There are a ton of Breaking Dawn Stars going to be on the small screen especially this week!

Kristen Stewart will be on Regis and Kelly on Tuesday the 19th talking about her work in Welcome to the Rileys. Set your DVR's because Regis and Kelly wins as the talk show with the world's worst record of getting segments online. Go figure, they are on ABC just like Jimmy Kimmel and Kimmel has one of the best records of getting material online. So no guarantees that we'll be able to embed footage here!

Mike Welch recently did an episode of Criminal Minds where he was reunited with former Joan of Arcadia co-star Joe Montegna. Well he's not the only one hitting series TV.

Peter Facinelli will be in season 3 of Nurse Jackie come January.

Liz Reaser is going to be on The Good Wife which is one of the best written shows currently on television. According to Gossip, "…[Liz ] will make her first appearance on the CBS hit on October 19 as a sports journalist named Tammy, who potentially has a romance with Josh Charles' Will…"

MacKenzie Foy is going to be appearing on an upcoming episode of Hawaii 5-0 (photo above with MacKenzie and series regular Grace Park). According to the fansite Nessie MacKenzie (which is the only site in touch with MacKenzie's management so it's a great site to follow!) "Now we're so happy to announce that she'll also appear on the 6th episode of Hawaii Five-0 which airs OCTOBER 25th as the role of Michelle." While we are on the topic of MacKenzie, she has no social networking sites. So don't be fooled by people claiming to be her! Let's face it, what parent in their right mind would let a 9-year-old make an unsupervised Twitter!