Ted Casablanca's The Awful Truth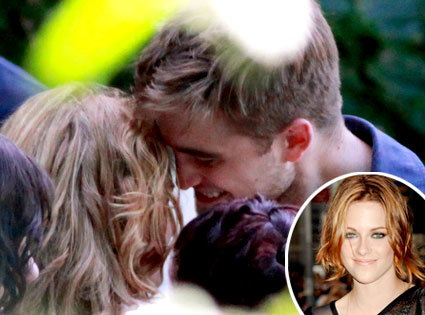 Finally! Something for you pesky
Twi
-hards who say "no pictures, no proof!"
So what has the couple been up to in Canada?
After Rob won many Teen Choice Awards Sunday (though
they weren't aired
until a day later) he took an Air Canada flight to Montreal Tuesday evening.
Since Kristen
couldn't make it
to L.A. for the awards, guess he came to her. Adorable!
Glad to see their set visits swing both ways. As we told you yesterday, the adorable
Christina Ricci
briefly talked about K.Stew
visiting them on the set
of
Bel Ami
in Budapest, saying how totally fab she was.
Stewart has been super busy filming
O.T.R.
which now stars Pattinson's BFF
Tom Sturridge
, hence K and T hanging out before Rob got in town.
So the freaking out
can end, people.
We hear from a source that Rob and Kristen
are
staying together up there, but that Pattinson's trip will be a little short and very sweet because he has some meeting in L.A. scheduled.
While in Canada, Robsten also had a romantic dinner date at
Le Club Chasse et Pêche
. Well, as romantic as you can get with security, a couple pals, and a few fans saying hello, though it's nothing as invasive as it is here in L.A., plus we know Rob's followers (and Kristen's too, surely)
are chill
.
"They were smiling and looked really happy, laughing through dinner" a fellow diner at the fancy and deelish restaurant tells us. "It's just so clear they are a couple."
The drinking age is 19 in Canada so Rob, you wine and dine the hell out of your babe!
For all you Twitter bugs, there's an
On the Road
extra who also tweeted
about Pattinson paying a visit again on set today, and the babe seems to be a Robsten convert!
"I can't believe i saw Robert Pattinson. Nerver thought i'd see him n Kristen in real. So there's the proof. THEY R 2GETHER"
You go Sharon Lea aka Sexy Cherry!
Ah, what a great way to start the weekend. You know, to have more pictures prove what we've been telling you for over a year now. Jeez snuggly pics on set what's next, a Robsten sex tape?
We kid, we kid.