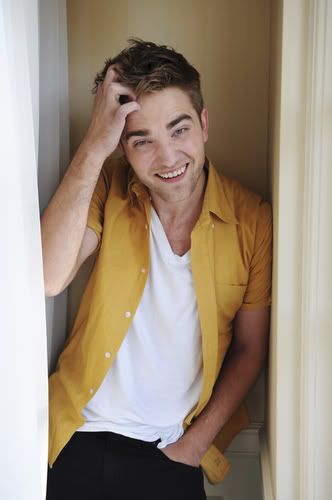 Bright star in a Twilight sky

By Elle Halliwell


GIVEN Twilight's phenomenal international success, it's hard to imagine the next instalment of the vampire flicks could be a box office flop.

But Robert Pattinson isn't taking anything for granted on the eve of the release of The Twilight Saga: Eclipse.

"To be honest, I'm more terrified that it's going to come out and no one's going to see it," Pattinson said.

Speaking on the phone whilst driving on a Californian highway, Pattinson is refreshingly down to earth, far removed from the hype that surrounds his Hollywood hunk status. His American twang from Twilight is replaced by his polite and friendly British tones and he seems genuinely keen for a chat - despite his reputation for being as brooding as his Twilight persona, the mysterious Edward Cullen.

He sounds kind of flattered, although wary, when this Insider admits to being an avid Twilight fan.

"Have you ever done an interview with a journalist who was a crazed Twilight fan?" I blurted.

"I think I've had one," he muses. "She was from Vietnam and she was having a full-on panic attack in the interview, which was quite funny."

With two blockbuster films already on the 24-year-old's resume, three more in the works and millions of adoring fans, Pattinson has Hollywood at his feet.

The first two instalments, Twilight and New Moon, have broken countless box-office records, grossing more than $60 million in Australia alone and $1.3 billion worldwide.

The success was initially based on the cult following of Stephanie Meyer's novels, which centre around Pattinson's character Edward, his mortal love interest Bella Swan (played by Kristen Stewart) and a werewolf named Jacob (played by Taylor Lautner), who is also vying for Bella's love.

The latest instalment, directed by David Slade, is slightly darker than the first two with a larger cast which includes Australian Xavier Samuel, whose character Riley leads an army of newborn vampires on a killing spree in Seattle.

"There's more action in it and I guess it's dark and more violent, but I always thought the tone of New Moon was quite dark," Pattinson says. read more...